New Mexico Architect Robert M. Calvani Elected as NCARB First Vice President/President-elect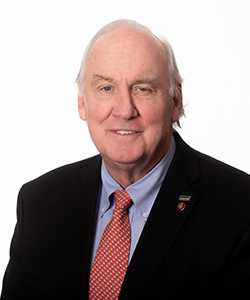 Washington, DC—Robert M. Calvani, FAIA, NCARB, of Albuquerque, New Mexico, was elected first vice president/president-elect of the National Council of Architectural Registration Boards (NCARB) at its Centennial Annual Business Meeting. By virtue of his election, Calvani will become president in July 2020.
Calvani has served on the New Mexico Board of Examiners for Architects since 2003, including terms as secretary, vice chair, and chair. He has also volunteered for several state committees, including the Rules & Regulations Committee and Enforcement Subcommittee. He began volunteering for NCARB soon after his appointment to the New Mexico Board, serving on several subcommittees related to the Architect Registration Examination® (ARE®) and later becoming chair of the Examination Committee. Calvani helped develop the newest version of the exam, ARE 5.0, by chairing the Test Specification Task Force. He has also been a valuable member of NCARB's Audit, Experience, Experience Advisory, Practice Analysis Steering, Procedures and Documents, and Regional Leadership committees, as well as the Model Law Task Force.
In recognition of his dedication and leadership, Calvani's peers elected him as the chair of NCARB's Region 6 in 2012. He joined the NCARB Board of Directors as the Region 6 director in 2015, and went on to serve terms as treasurer, secretary, and second vice president before being elected first vice president in 2019.
Calvani is the founder and president of NCA Architects. He is actively involved in his local community, devoting his time to numerous advisory boards. Calvani is also a member of the American Institute of Architects (AIA). In 2018, he was elevated to the AIA College of Fellows.
Calvani earned architectural degrees from both the University of New Mexico and the University of California, Los Angeles. He has held an NCARB Certificate since 1981 and is licensed in New Mexico, Arizona, Colorado, Nevada, and Texas.
About NCARB
The National Council of Architectural Registration Boards' membership is made up of the architectural licensing boards of the 50 states, the District of Columbia, Guam, the Northern Mariana Islands, Puerto Rico, and the U.S. Virgin Islands. NCARB, in collaboration with these boards, facilitates the licensure and credentialing of architects to protect the health, safety, and welfare of the public.
To achieve these goals, NCARB works with its Member Boards and volunteers to develop and facilitate standards for licensure, including the national examination and experience program. NCARB also recommends regulatory guidelines for licensing boards and helps architects expand their professional reach through the NCARB Certificate.