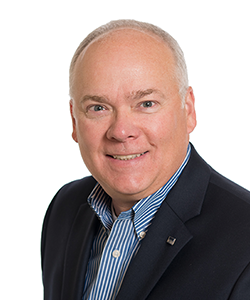 Austin, TX—John Patrick Rademacher, NCARB, AIA, of Loveland, Ohio, was elected as secretary of the National Council of Architectural Registration Boards (NCARB) at the organization's 2022 Annual Business Meeting. Rademacher was first elected to the NCARB Board of Directors in 2021 as the director of Region 4 (Mid-Central Conference), which represents the licensing boards of Illinois, Indiana, Iowa, Kentucky, Michigan, Minnesota, Missouri, Ohio, and Wisconsin.
Rademacher has been a member of the Ohio Architects Board since 2012. During his tenure on the board, he served terms as the board's assistant secretary, secretary, vice chair, chair, and president. In 2015, he was elected by his peers as the secretary of NCARB's Region 4 and went on to serve as treasurer, vice chair, and chair before being elected Region 4 director in 2020 and 2021.
Shortly after joining his state licensing board, Rademacher began contributing his time and expertise to NCARB's volunteer initiatives. He has served as the NCARB Board liaison to the Examination Committee and Incidental Practice Task Force and served as the chair of NCARB's Experience and Experience Advisory committees. In addition, Rademacher has been a valuable member of NCARB's Advocacy Work Group, Architect Registration Examination® (ARE®) 5.0 Item Development Project Management Subcommittee, Continuing Education Committee, Diversity Collaborative, Examination Committee, International Evaluation Committee, Policy Advisory Committee, Regional Leadership Committee, and US/UK Competencies Review Team.
In addition to his service to NCARB, Rademacher is a past president of the American Institute of Architects (AIA) Cincinnati and a past member of the Board Advocacy Committee for the national component of the AIA, where he worked to develop the Citizen Architect Program and promote the organization's legislative efforts. He is also a member of the National Organization of Minority Architects (NOMA). As a civically engaged architect, Rademacher served as the chair of the Miami Township Zoning Commission and is currently a member of the Dayton Chamber of Commerce, Minority Business Partnership.
With nearly 40 years of experience in architecture, development, and construction, Rademacher is currently a principal at Elevar Design Group in Cincinnati, Ohio—where he is in his 22nd year. He received a Bachelor of Architecture Degree from the University of Cincinnati's College of Design, Architecture, Art, and Planning (DAAP). Rademacher holds the NCARB Certificate for national reciprocity and is licensed to practice architecture in Ohio, as well as in 29 additional states.
---
About NCARB
The National Council of Architectural Registration Boards' membership is made up of the architectural licensing boards of the 50 states, the District of Columbia, Guam, the Northern Mariana Islands, Puerto Rico, and the U.S. Virgin Islands. NCARB, in collaboration with these boards, facilitates the licensure and credentialing of architects to protect the health, safety, and welfare of the public.
To achieve these goals, NCARB works with its Member Boards and volunteers to develop and facilitate standards for licensure, including the national examination and experience program. NCARB also recommends regulatory guidelines for licensing boards and helps architects expand their professional reach through the NCARB Certificate. Connect with NCARB on LinkedIn,  Twitter,  Facebook, and  YouTube.