Robert A. Boynton, FAIA, Elected President of NCARB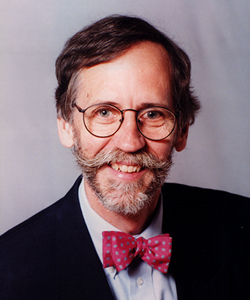 Robert A. Boynton, FAIA, of Richmond, Virginia, was recently elected president of the National Council of Architectural Registration Boards (NCARB) at its Annual Meeting and Conference in San Antonio, Texas. Boynton successively served as the Council's secretary, second vice president, and first vice president. He is a founding partner in the Richmond-based firm, BoyntonoRothschildoRowland ArchitectsPC, long recognized for its architectural work at many colleges and universities in the state of Virginia, and with other private and public clients in the Middle Atlantic region.
Boynton has provided vital leadership to Council endeavors since the early 1990s. His contributions have included participation on several NCARB committees, including the Committee on Procedures and Documents, the Committee on Professional Conduct, the Member Board Administrators Committee, the Committee on International Relations, the Committee on Examination, the Architect Registration Examination Subcommittee, and the Committee on Education.
He was elected to the Council's Region 2 Conference, which represents the Middle Atlantic states, and served successively as secretary, chair, and director. On the state level, Boynton was appointed to the Virginia Board for Architects, Professional Engineers, Land Surveyors, Certified Interior Designers, and Landscape Architects in 1992 and served as its president in 1996-1997. He has served as chair of the Architect Section of the Virginia Board for five different terms. Boynton is the first person to have been appointed to the board by three different Virginia governors.
Boynton is a graduate of Virginia Polytechnic Institute, where he received a bachelor
of architecture degree in 1969. He is registered in four states and holds an NCARB Certificate for national reciprocity. In 1995, Boynton was elected to the American Institute of Architects' College of Fellows. The advancement to Fellowship is one of the highest honors AIA can bestow upon a member.
It was also in 1995 that Boynton received the Professional of the Year Award from the Virginia Association of Professions. The award has only been given to one other architect in the 30-year history of the association. He was recognized for ". . . his years of service in the community and to the professions, his humanitarian endeavors, and his complete dedication to the cause of justice and ethics in the profession of architecture." Boynton served on the VAP's board of directors from 1974 to 2000.
Boynton is a member of the advancement board for the Virginia Polytechnic Institute and State University's College of Architecture and Urban Studies; the advisory committee for the Engineering Technology Program of J. Sargeant Reynolds Community College; and the professional advisory board of Hampton University's Department of Architecture. He has also served on a number of National Architectural Accrediting Board (NAAB) teams that assess curricula for college and university-level architectural programs throughout the United States.
Boynton has served the American Institute of Architects at the local, state, and regional levels since entering the profession in 1969. He was the president of the James River Chapter AIA as well as the president of the Virginia Society AIA, and served as vice-president of the Virginia Foundation for Architecture. Boynton also served as regional representative to the AIA College of Fellows. He was awarded the first Marcellus Wright Award from the local AIA Chapter, its highest honor; the Distinguished Service Award from the Virginia Society AIA; and Certificates of Appreciation from the Virginia Foundation and the College of Fellows