The work of an architect is both exciting and varied, and no two days are alike. On any given day, an architect may collaborate with colleagues and clients, sketch new ideas, and visit job sites. We caught up with Associate Amy Johnson, AIA, LEED AP BD+C, at Gensler's Washington, DC, office to learn about what a "typical" day for her looks like.
8 – 8:30 a.m.: Commute to Work
I walk to the Metro and enjoy browsing the quick stories in the free Express newspaper from The Washington Post.
8:30 a.m.: Coffee!
Grab a coffee at our great Nespresso machine where I can chat with colleagues about projects they're working on and catch up about our latest TV show addictions.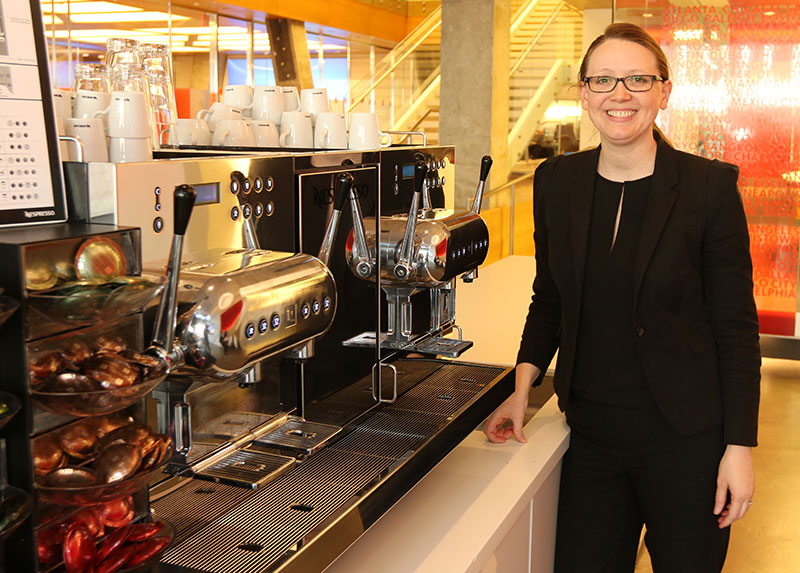 8:45 – 9:45 a.m.: Read Email and Organize
Reading through emails and seeing what tasks needs the most attention helps me stay organized and prepare for different projects throughout the day.
9:45 a.m. – Noon: Design and Revit Modeling
Like many jobs today, much of my work is done on a computer, whether drawing or emailing with clients and consultants. I often use Revit as my primary documentation tool to develop our design and construction documents, easily make revisions to the model for potential retail tenants, and review structural and MEP models for coordination. It enables me to build and design in 3D, making it a powerful tool to prepare drawings and communicate design solutions to clients.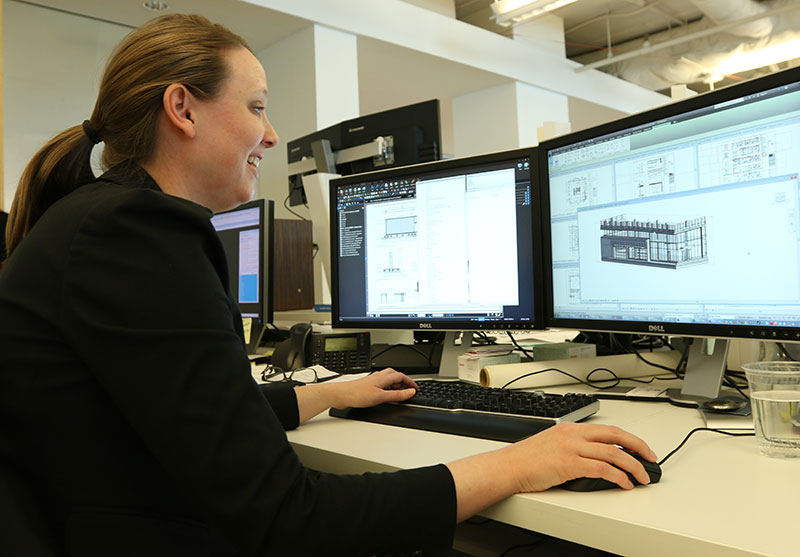 12:00 p.m. – 1 p.m.: Lunch and Learn
Gensler coordinates "lunch and learns" for all staff on topics such as materials, processes, and projects, as well as general industry knowledge and the firm's current projects. It's a great opportunity for architects to share knowledge with each other and help aspiring architects learn about new experience areas. The extra bonus is a free lunch!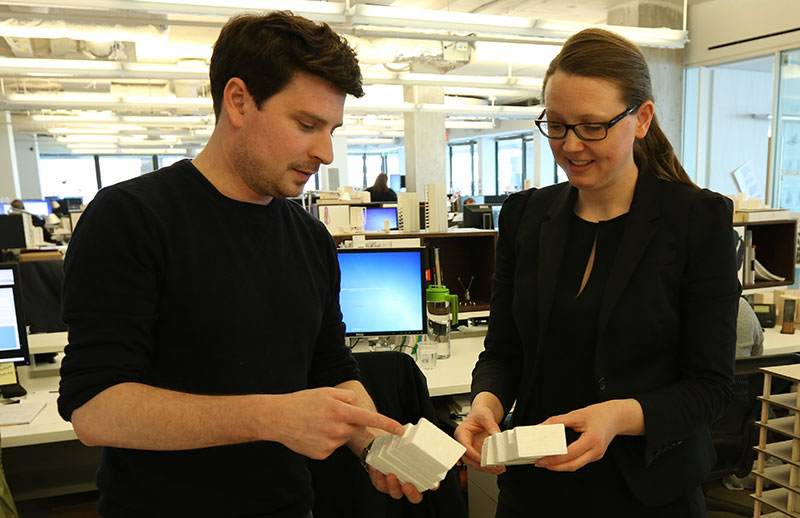 1-3:30p.m.: Project Work
I'm currently working on a new office building near the Nationals stadium as part of a three-person team. We meet regularly to coordinate and divide the work. In addition, we work with numerous consultants who design and document other portions of the work.
I'm responsible for coordinating the consultants' work and drawings into a cohesive document that tells the story of the design. I often collaborate with our technical director for advice on the project as well. I'm still amazed at the amount of people and expertise it takes to execute a project.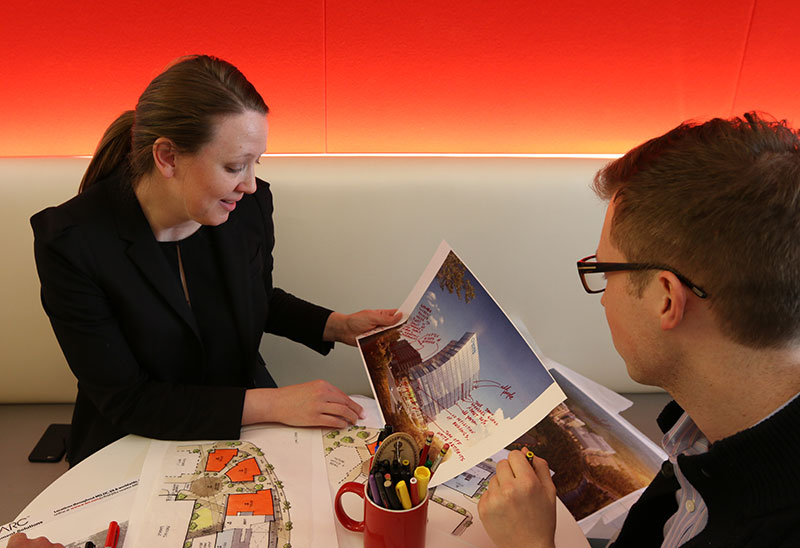 3:30 – 4 p.m.: Discuss Licensure Program and Community Projects
As part of the "Licensure Leadership" initiative—and someone who recently completed the licensure process—I like to share what I've learned and explain that the process isn't as scary as it seems. I also volunteer my time for our office community programs where I get to meet new people and do fun projects that help the local community, such as the Goodwill pop-up retail shop.
4 – 6 p.m.: Site Visit
With our client and contractor, I went to a precast concrete plant to review a full-size panel mockup for our building. It is really exciting to see the drawings executed in 1:1 scale. We also got a tour of the plant to understand the process, equipment, and space required to make 30'x10' concrete panels. In a little more than year, the hole will be dug four stories of parking below grade, and the concrete will be up for the 11-story building we designed. It will be ready to accept the precast concrete panels reviewed a year earlier.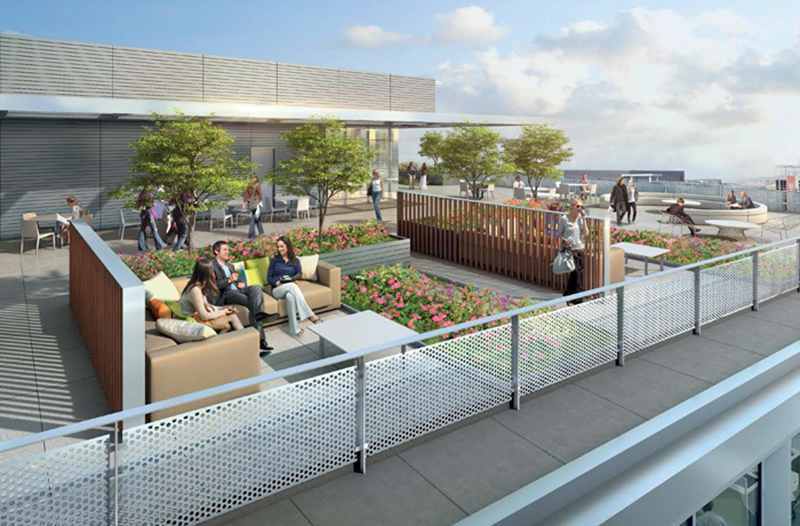 6 – 7 p.m.: Yoga
I'm fortunate to have a firm that offers exercise and well-being programs. I can keep healthy by going to yoga before even leaving the office, which helps improve work-life balance.
7 p.m.: Home to Enjoy the Evening
Outside the office I like to go eat at my favorite restaurants, ride my bicycle, and work on personal projects, like my current house renovation. It's a fun challenge to design for myself, and I'm looking forward to moving in when it's finished!
Amy Johnson, AIA, LEED AP BD+C, has over 10 years of experience working on large-scale projects around the globe—from Washington, DC, to Beijing, China—including commercial office buildings, education, sports and recreation, and retail sectors. Current and former clients include Boeing, Hogan Lovells, Tishman Speyer, Skanska, and GW. Amy's experience spans all phases of project and design development, as she partners with her clients to guide them from visioning through execution. Amy earned a Bachelor of Arts from the College of Wooster and a Master of Architecture from the University of Pennsylvania. She's currently an associate at Gensler in Washington, DC.