Every year, NCARB selects a group of 12 recently licensed architects from around the country to be a part of the Re-Think Tank. This year's group got the opportunity to explore challenges and opportunities throughout the licensure process, discuss equity and diversity within the profession, brainstorm ways to improve the relationship between licensure candidates and supervisors, and explore professional ethics within practice. We recently got the chance to catch up with Carly De La Hoz, RA, AIA, LEED AP BD+C, and chat about her experience with the 2020 Re-Think Tank, plus her perspectives on the licensure process and more.
How did you get your start in architecture?
In elementary school, I drew my first house during recess, detailing all the rooms and exterior elevations. I loved the process of translating the ideas in my head to drawings on paper. I knew then that I wanted to be an architect. Thanks to a generous financial aid package, I was able to attend Princeton University, where I majored in architecture, studied with renowned professors, and had the opportunity to conduct extensive academic research. I consider my "start" in architecture to be when I began interning at Beyer Blinder Belle (BBB) in New York City during the summer after my sophomore year at Princeton. At BBB, I was able to use my academic training as a lens through which I approached the practical problem-solving process that occurs in architectural practice.
Why did you apply to be a part of this year's Re-Think Tank?
I applied to be a part of the Re-Think Tank because I earned my license through what is considered an "alternate" path, and I wanted to share my story. My four-year Bachelor of Arts degree in architecture was not accredited by the National Architectural Accrediting Board (NAAB), and I thought pursuing a Master of Architecture (M.Arch.) was my only path to licensure. Upon graduation, I was hired by BBB, and although graduate school was not financially feasible for me, I applied to M.Arch. programs while working full-time and logging my Intern Development Program (IDP) hours—now known as the Architectural Experience Program® (AXP®). That year, I made two good friends who both had four-year architecture degrees, but only one had an M.Arch. degree. Both were rising up the ranks at their respective firms, taking the Architect Registration Examination® (ARE®), and progressing on the path to licensure. I realized then that I could obtain my license without attending an expensive graduate program.
I came to this realization a bit late, having already accepted an offer of admission from Harvard's Graduate School of Design (GSD). That summer, I had a choice to make—either attend a three-and-a-half-year M.Arch. program, or return to work, the place I considered my real-life classroom. I ended up withdrawing from Harvard because I could not justify the six-figure loan when I compared it with the path to licensure that was already open to me in New York. I returned to work, met the requirements to sit for ARE 4.0 (the previous iteration of the licensing exam), completed all seven exams in seven months, and eventually earned my license in September 2018 after working for five full years. I had seen classmates and colleagues abandon architecture out of frustration stemming from the inability to find internships and mentors, and the general lack of accessible information about the profession. I knew that participating in the Re-Think Tank would give me a platform to address the challenges associated with licensure.
What were some of the key challenges and opportunities you and your team members explored?
My team and I set out to identify roadblocks on the path to licensure, with the goal of making the profession more accessible to a wider demographic. We quickly realized that while there was a wealth of information available from various resources (NCARB, NAAB, the American Institute of Architects, blogs, social media, etc.), licensure candidates were often reaching out to peers and colleagues to seek specific information about state requirements and exam prep. We wanted to tackle this information dilemma, so we worked on a series of proposals focused on increasing transparency and access to the profession at critical points—before the licensure process (when potential candidates are in high school), during the licensure process (when candidates are working to complete the AXP and ARE), and after the licensure process (when candidates have fulfilled the licensure requirements). Our research, proposals, and final presentation emphasized the importance of increasing access to high school students by way of school programs, career fairs, and informational campaigns. We also proposed updates to NCARB's online communities and licensure tool, which we believe will enhance the user experience and eliminate some of the frustration associated with the licensure process.
If you could go back in time and change one thing about your licensure process, what would it be and why?
I used to wonder what my path would have looked like if I had pursued a five-year Bachelor of Architecture (B.Arch.) degree instead of a four-year B.A. In the end, I don't think I would change a thing. I am incredibly grateful that I was able to pursue a liberal arts education at Princeton while interning at an architecture firm during my summer and winter breaks. The theoretical and analytical capabilities I developed as an undergraduate student have shaped the way I tackle complex problems, while the mentorship I received from senior colleagues on the job has equipped me with the practical knowledge needed to design buildings pragmatically and responsibly. Every aspect of my training—my education, the examination, and my experience—has made me the architect I am today.
What are some ways you think the licensure process can change to address equity, diversity, and inclusion (EDI)?
The licensure process must address equity, diversity, and inclusion by rethinking the way we approach the three licensure requirements: education, examination, and experience. These three components contain inherent biases, and each one is exclusionary to some extent. A bachelor's degree can be cost-prohibitive, and a master's degree is a luxury that many cannot afford to pursue, especially when salary prospects are disproportionate to the cost of education. As for exams, research shows that standardized tests are often laden with cultural, racial, and socioeconomic biases that perpetuate an achievement gap. When it comes to experience, inherent biases in hiring practices may favor candidates on the traditional licensure path while bypassing those on alternate paths.
Solutions to these problems should not be one-size-fits-all, but rather a kit-of-parts that can be customized to each licensure candidate. Making higher education more affordable is beyond the purview of architecture, but the profession can become more inclusive if it acknowledges those individuals on the alternative education path, and finds ways to supplement academic training with experience, like NCARB's option to document two times the AXP.
Academia and professional practice should not be competing for relevance within the profession. Instead, education and experience should complement each other in a way that makes the profession more accessible and attractive to potential licensure candidates—perhaps through internship options for school credit or more mentorship opportunities for recent graduates fresh on the job. High school programs for students interested in the architecture, engineering, and construction (AEC) industry are also a great way to welcome a wider demographic into the profession.
How do you plan on implementing your experience on the Re-Think Tank into your professional life?
Working on the Re-Think Tank has reaffirmed my commitment to increasing transparency in the licensure process and supporting underrepresented groups along the path to licensure and in professional leadership positions. I intend to continue promoting mentorship, from high school programs to professional mentoring within firms. I will be serving on NCARB's Education Committee this year, and I look forward to continued discussions on equity, diversity, and inclusion. I hope our efforts will lead to real change in the profession.
What would you say to someone who's on the fence on pursuing a career in architecture?
Stick with it, and it will be worth it. If you have ever dreamed of turning your design ideas into a built reality, there is nothing more rewarding than seeing your creations manifest in physical space. Licensure is an honor and a great responsibility, and every step of the way is critical and requires a commitment to the work. Education will give you a solid foundation and the examination will test specific knowledge that is essential to practicing architecture. Finally, just as medical residencies provide newly-minted Doctors of Medicine (MDs) with the post-graduate training needed to ensure the health, safety, and welfare of their patients, the AXP will provide you with the practical training needed to construct buildings that are safe for the public. If you ever feel lost or overwhelmed by the complexity of it all, do not hesitate to reach out to your professors, peers, and senior colleagues. Empower yourself by following through with the entire process. The future of the built environment is in your hands.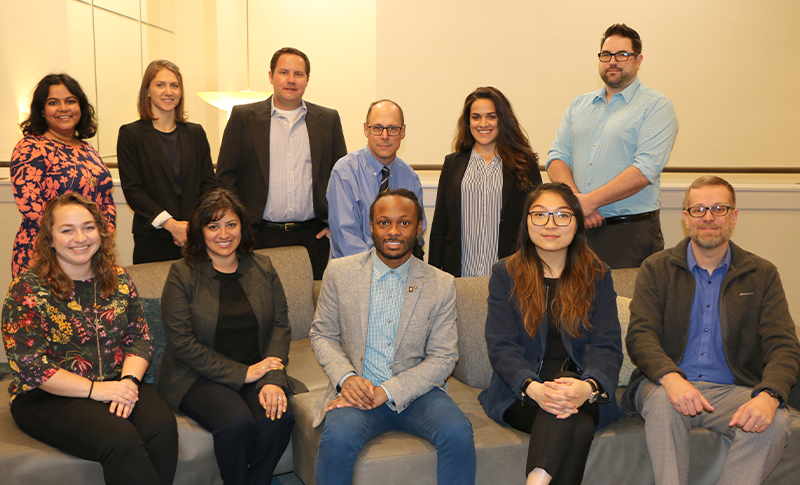 2020 Re-Think Tank Members
Carly de la Hoz (Asbury Park, NJ)
Tyler Mason (Dallas, TX)
Kingkini Arend (Enid, OK)
Jakiel Sanders (Lakewood, OH)
Roxana Lopex-Truong (Thousand Oaks, CA)
Jake Jacobsen (Albuquerque, NM)
Caroline Shannon (Cambridge, MA)
Matthew Conard (Wichita, KS)
Joann Lui (Lawrenceville, NJ)
Brandon Everhart (Lexington, NC)
Courtney Zunis (Cincinnati, OH)
Cam Featherstonhaugh (Burlington, VT)