NCARB is committed to ensuring that our systems, tools, and resources are accessible and inclusive for all individuals. As part of this effort, we've added a new optional feature in My NCARB: you can now add your preferred name and/or pronouns to your profile.
This optional feature allows us to address you correctly—for example, if you regularly use a nickname. If you don't wish to add a preferred name or pronouns to your Record, you can leave these fields blank. NCARB will adapt these changes on an ongoing basis as customers continue to use this tool and provide feedback.
Button: Add Your Preferred Name/Pronouns
How to Add Your Preferred Name and/or Pronouns
To take advantage of this feature, log in to My NCARB and navigate to the "Profile" tab. Then, select "Edit" next to "Preferred Name" to add an affirming name or nickname.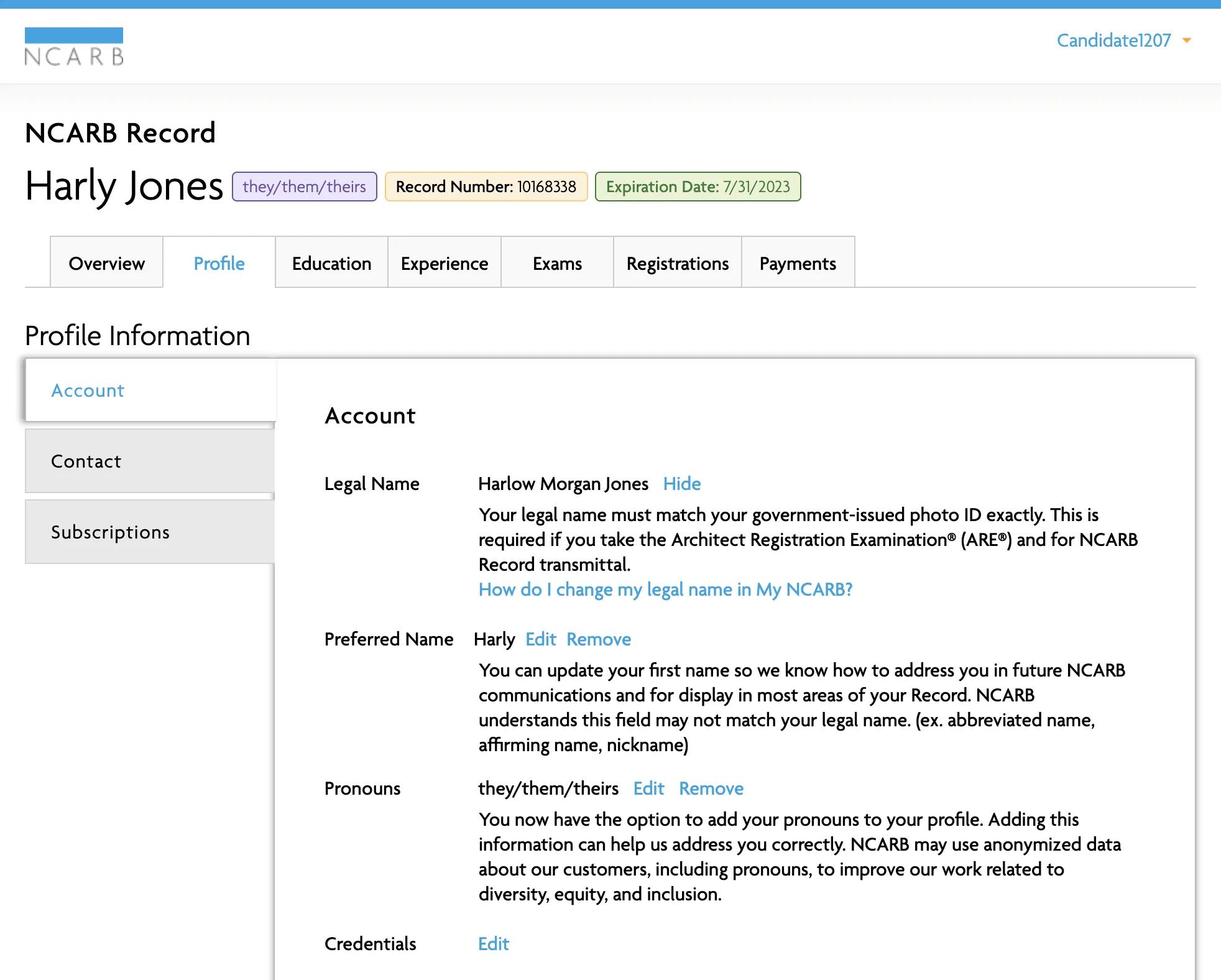 On the same page, select "Edit" next to "Pronouns" to provide your pronouns—our system will allow you to select from common options, or you can select "Other" to write in your own. 

Where We'll Use Your Preferred Name
If you choose to add a preferred name, we'll use it to replace your legal name in our regular communications—including automated emails and newsletters—as well as within the tabs of your Record and in any experience reports that are sent to your supervisor. We may use anonymized data about our Record holders, including pronouns, to improve our work related to diversity, equity, and inclusion.
Keep in mind, adding a preferred name will not change your legal name. Your legal name will still be used in certain circumstances, including:
When your Record is transmitted to a licensing board in pursuit of licensure
To schedule exam appointments—and your legal name must match the name shown on your legal ID
Within your educational transcripts
For any legal or official documents, including an NCARB Certificate
If you need to change your legal name in your NCARB Record, please contact us.