The number of U.S. architects rose slightly in 2017, with over 113,000 licensed practitioners across the 54 jurisdictions—a 3 percent increase from 2016. With over 125,000 reciprocal (out-of-state) licenses, mobility stayed strong, signaling that architects continue to seek work across borders.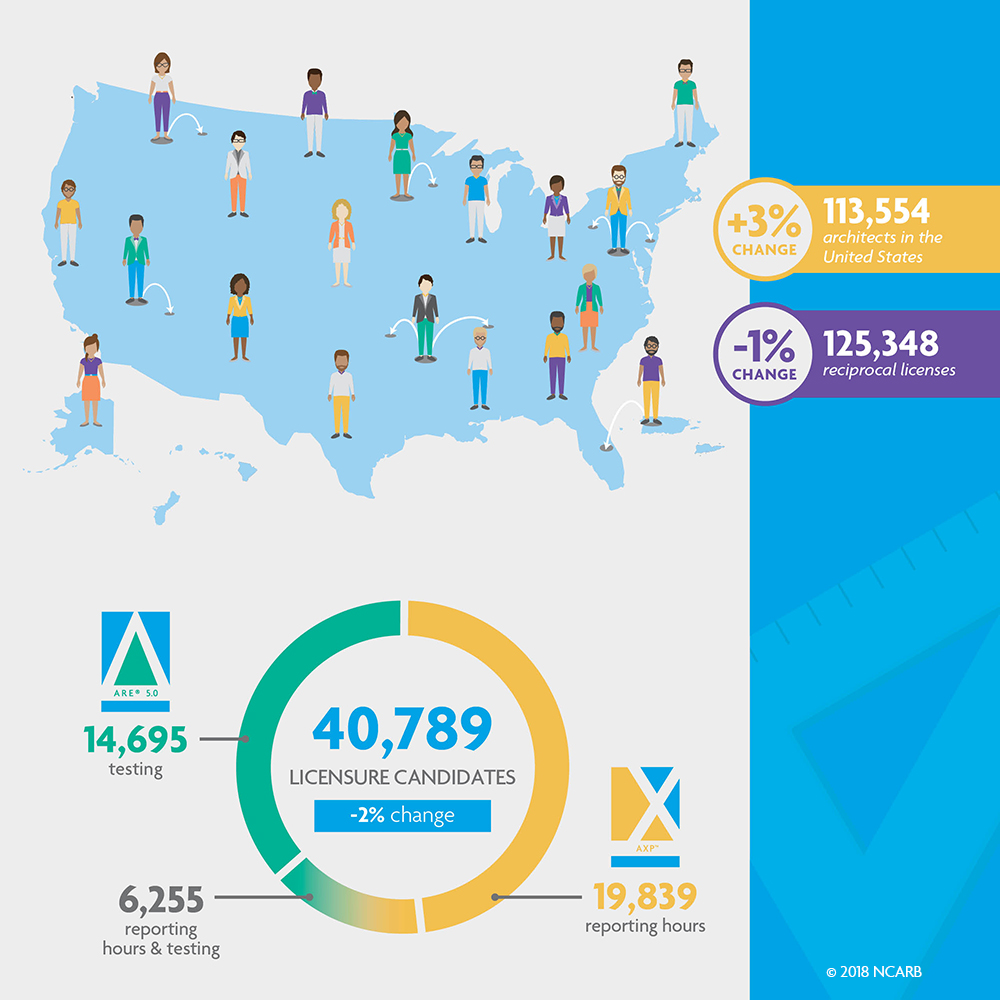 A record number of individuals completed the core requirements for licensure, causing the pool of candidates to fall slightly in 2017. There are still almost 41,000 individuals actively working toward becoming a licensed architect.
Record Number of Candidates Complete Core Licensure Requirements
Over 5,200 candidates completed their final core requirement for licensure in 2017. This is an increase of 11 percent from 2016 and a new record. There are two driving reasons for this spike in requirement completions: the 2016 overhaul of AXP, which accelerated a large group of candidates toward finishing the experience program, and a rush by candidates to complete the exam before the retirement of ARE 4.0.
The increase in completions over the last three years has led to a decrease in the total number of licensure candidates, as higher numbers of candidates exit the pipeline while the number of new Records holds steady. The 11 percent jump in 2017 suggests that the number of licensure candidates actively working toward licensure will likely fall in 2018.
Pool of Licensure Candidates Dips Slightly
In 2017, nearly 40,800 individuals actively worked toward licensure by reporting AXP hours, taking the ARE, or both. While this represents a 2 percent drop from 2016, the likely reason for the decrease is positive: nearly 10,000 licensure candidates completed their core requirements in 2016 and 2017 combined. As these individuals leave the pipeline, fewer remain in the pool. Therefore, we anticipate that the number of candidates will shrink again (potentially more dramatically) in 2018.
This trend is most apparent when looking at the number of candidates reporting experience. This group has dropped by 4,000 since its peak in 2015, correlating with the large number of people completing the AXP in recent years.
Note: Historical data can shift because licensure candidates can backdate experience up to five years.
Number of U.S. Architects Increases
The number of architects licensed in the United States rose to 113,554 in 2017, according to the annual Survey of Architectural Registration Boards. This represents a 3 percent increase from 2016 and an almost 11 percent increase from the number of U.S. architects seen a decade ago. As older generations retire or start to step away from the profession, this suggests that there are sufficient new architects moving along the pipeline to take their place.
The 2017 Survey of Architectural Registration Boards also revealed that there are still more reciprocal (out-of-state) licenses than resident licenses issued across the U.S. There were 125,348 reciprocal licenses reported in 2017, a 1 percent decrease from 2016.
Each year, NCARB collects this data from its 54 Member Boards, which include the 50 states, the District of Columbia, Guam, Puerto Rico, and the U.S. Virgin Islands.
Architects Grow in Comparison to U.S. Population
While the number of architects licensed in the United States has risen over 10 percent since 2008, the total U.S. population has risen just 8 percent, according to data from the U.S. Census Bureau. This suggests that there are now slightly more architects per capita (one architect to every 2,900 people) than there were at the start of the 2007-2009 economic recession. Many architects maintain their professional licenses into retirement, which could also impact this data.
---