This page provides an overview of the application process for architects licensed abroad. If you would like to apply for the Foreign Architect Path to NCARB certification, review the Foreign Architect Path Manual, which provides in-depth explanations of the requirements for completing this path.
After reviewing the Foreign Architect Path's requirements, you can learn more about completing the program. You can also watch our webinar recording to learn more.
If you are a licensed architect outside of the United States or Canada, you may be able to pursue an NCARB Certificate by verifying your license and completing two programs: the Architectural Experience Program (AXP) and the Architect Registration Examination (ARE). After earning an NCARB Certificate, you can use this credential to apply for a license in a U.S. jurisdiction that accepts an NCARB Certificate issued through the Foreign Architect Path.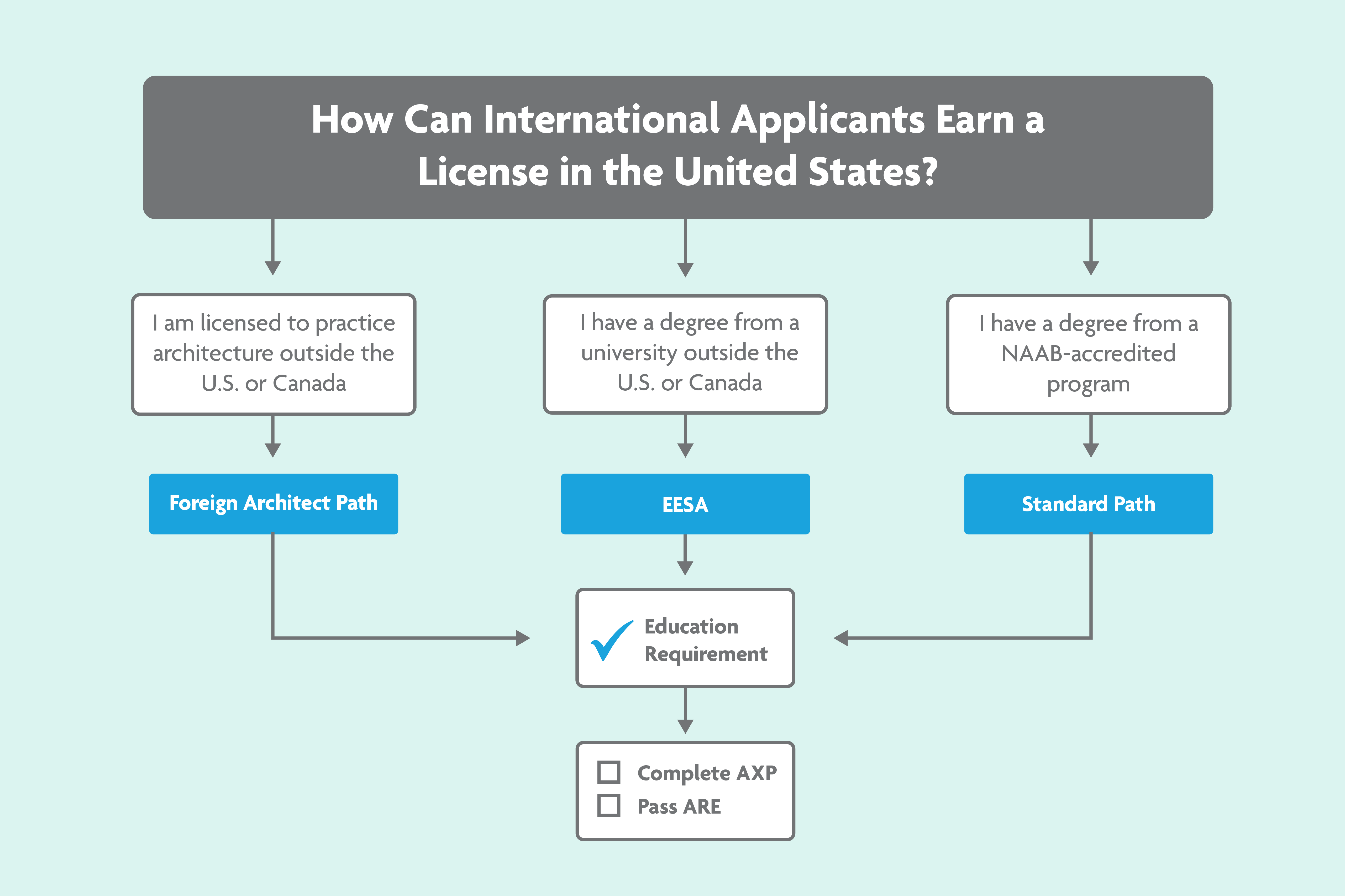 Qualifications
To be eligible for the Foreign Architect Path, your architecture license must meet certain requirements:
Your license must be active and in good standing at the point of application
Your license must allow unlimited practice—the design of all types and sizes of buildings
Your country must have a system for tracking disciplinary action for architects
You must have no record of disciplinary action
Additional requirements are documented in the Certification Guidelines.
How to Apply
Before starting the process, use our Licensing Requirements Tool to confirm that the U.S. jurisdiction where you want to earn a license accepts the Foreign Architect Path. (Select the "Reciprocal Registration" tab and then select "NCARB Certificates granted through the Foreign Architect Path are accepted" under "Requirements.") You should also check directly with the jurisdiction(s) in which you seek a reciprocal license to ensure they will accept an NCARB Certificate issued through completion of the Foreign Architect Path to Certification, as their rules are subject to change.
You should also download the Foreign Architect Checklist, which provides detailed steps on completing this process.
Once you determine where you'd like to earn a license, you will need to establish an NCARB Record, which is a verified account of your professional history.
Next, you can add your foreign registration and education. You will then be prompted to indicate your interest in the Foreign Architect by checking a box within your Record.
Submitting Paperwork
Once you've indicated your interest, you'll need to have your official paperwork submitted to verify your education and registration before you are accepted into the Foreign Architect Path. All forms and transcripts must be submitted in English.
Foreign Registration: Complete Part A of the Credential Verification Form, used to verify the architecture license issued by your country. Then, allow for the registration/license/credentialing authority of your foreign architecture license (not your university) to complete Part B—they will be the ones submitting the final form to NCARB.
School Transcripts: You can have your transcripts verified and included in your NCARB Record in one of two ways:
1. Electronic Copy: Use your school's electronic transcript request form to have a transcript sent to NCARB. Simply enter transcripts@ncarb.org as the recipient email address and  include your NCARB Record number in the comments/notes section (if available). Note: If you have a degree from a university outside the United States or Canada and are pursuing an Education Evaluation Service for Architects (EESA) administered by the National Architectural Accrediting Board (NAAB), do not have your transcript submitted to NCARB. Contact NAAB.
2. Physical Copy: Download and send the transcript request form and any fee to your school(s). The school must submit your transcript directly to NCARB.
All documents submitted to NCARB must be in English. If your university does not issue transcripts in English, a translator or translation service must provide the translated documents directly to NCARB and:
Provide verifiable contact information including: name, email, and phone number.
Confirm the name of the university or entity the transcript was received from.
Confirm method the transcript was delivered for translation (physical mail or email)
Include confirmation that the translation was completed using the original, sealed document.
Please note that both the Credential Verification Form and official transcript must be completed/submitted in English. Review translation requirements.
Application Review
After you've created your Record and submitted your supporting documents, NCARB will review your Record and contact you regarding your eligibility for the Foreign Architect Path.  Please note, this process can take up to 45 business days, depending on the volume of applications we receive.
If NCARB determines you are eligible for the Foreign Architect Path, you will then need to satisfy NCARB's experience and examination requirements for certification. Learn more about completing the Foreign Architect Path, and download the Certification Guidelines for additional information.
Fees
The Foreign Architect Path has a maximum fee of $1,280, depending on the cost of your initial NCARB Record application—this is the same cost associated with an NCARB Certificate application. Note: This does not include the cost of completing the exam, which costs $235 per division.
The application fee will not be billed to your account until after your required credentials are approved, and you will have one year to pay the fee.