Before you can call yourself an architect or practice architecture in the United States, you must first earn a license from the jurisdiction where you will practice.
Note: There is no national license to practice architecture in the United States. The 55 U.S. licensing boards regulate architecture and issue licenses specific to their jurisdiction.
As an applicant from a foreign country, your path to licensure in the United States will vary based on the individual jurisdiction's requirements and whether you are licensed abroad or simply hold an architecture degree from an international institution.
If you are licensed abroad, you may be able to pursue the Foreign Architect Path to certification. If you were educated abroad but do not have a license, you may be able to pursue an Education Evaluation Services for Architects (EESA). Both the Foreign Architect Path and the EESA are means of fulfilling the education component of the standard path to licensure in the United States. For either path, you must still complete the Architectural Experience Program (AXP®) and the Architect Registration Examination (ARE®).
Which path is right for me?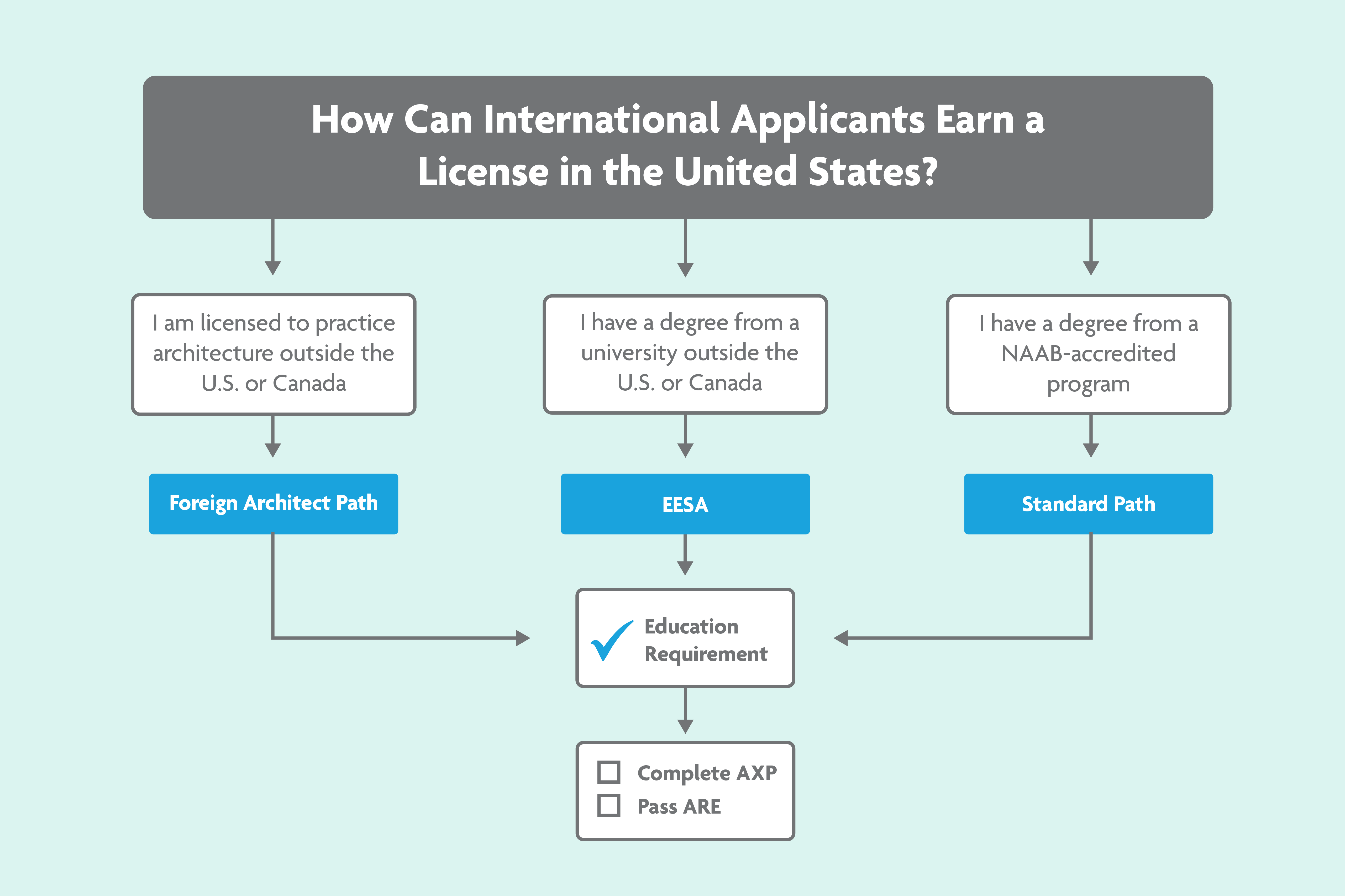 Foreign Educated (EESA)
If you received an architecture degree in a foreign country but do not hold a license, you will need to follow the steps below to earn a license in the United States.
Please note: Through the Canberra Accord, certain professional degrees in architecture from accredited programs in Australia, Canada, China, Korea, Mexico, and the Commonwealth Association of Architects may qualify for accelerated EESA evaluation processing by the National Architectural Accrediting Board (NAAB).
Foreign Architect Path (Architects Licensed Abroad)
Foreign architects can pursue an NCARB Certificate by completing NCARB's experience and examination requirements, and using your license to establish your education qualifications. The Certificate does not establish your ability to practice architecture in the United States. However, most jurisdictions accept the NCARB Certificate as a means of meeting the requirements for reciprocal licensure. Once you are certified, you can use the credential to earn a license in an individual jurisdiction.
Learn more about the foreign architect path to certification.
Note: If you are a citizen of Australia, Canada, Mexico, or New Zealand, you may be able to pursue architectural licensure in the United States through the appropriate mutual recognition arrangement.
Standard Path
If you do not qualify for either of the above choices, you may apply for a license by meeting the education, experience, and examination requirements of a specific U.S. jurisdiction.