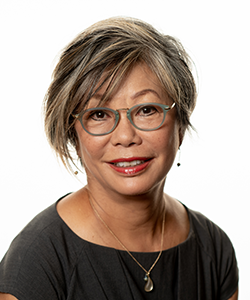 Los Angeles—Sylvia Kwan, FAIA, LEED AP, of San Francisco, was elected as a regional director at the National Council of Architectural Registration Board's (NCARB) 2021 Annual Business Meeting. Kwan was nominated to serve on the NCARB Board of Directors by the organization's Region 6 (Western Conference), which is comprised of Alaska, Arizona, California, Colorado, Guam, Hawaii, Idaho, Nevada, New Mexico, the Northern Mariana Islands, Oregon, Utah, and Washington.
Kwan was appointed to the California Architects Board in 2012 and served as the board's chair from 2018-19. During her time on the board, she has served as the chair of its Communications and Executive committees, and has been a member of its Professional Qualifications Committee. In 2018, Kwan was elected by her peers to serve as a member of Region 6's Executive Committee and became the region's chair in 2020.
Kwan has offered her time and expertise to several NCARB volunteer initiatives, including the Internship (now Experience), Internship Advisory, Policy Advisory, and Regional Leadership committees. She has also been a member of NCARB's Diversity Collaborative Task Force, which explores and recommends strategies to increase the diversity of NCARB's Member Boards, regional leadership, and national Board.
A dedicated volunteer, Kwan has contributed to several other professional organizations, serving as the former chair of UC Berkeley College of Environmental Design Dean's Council, and as a director on the American Institute of Architects (AIA) national board, the AIA California Council board, and the AIA San Francisco chapter board. She also served as the chair of the San Francisco Chamber of Commerce board from 2001-2002 and as president of the Northern California chapter of the International Women's Forum.
In addition to numerous awards for architectural design, Kwan was elevated to the AIA's College of Fellows in 1998. She helped found Kwan Henmi Architecture/Planning, Inc., in 1980, with a commitment to enhance and protect the built environment. In 2017, she led the firm through its merger with DLR Group, a multi-national firm. She is currently a principal in DLR Group's San Francisco office.
Kwan is licensed to practice architecture in California and holds the NCARB Certificate for national reciprocity.
---
About NCARB
The National Council of Architectural Registration Boards' membership is made up of the architectural licensing boards of the 50 states, the District of Columbia, Guam, the Northern Mariana Islands, Puerto Rico, and the U.S. Virgin Islands. NCARB, in collaboration with these boards, facilitates the licensure and credentialing of architects to protect the health, safety, and welfare of the public.
To achieve these goals, NCARB works with its Member Boards and volunteers to develop and facilitate standards for licensure, including the national examination and experience program. NCARB also recommends regulatory guidelines for licensing boards and helps architects expand their professional reach through the NCARB Certificate. Connect with NCARB on  Twitter,  Facebook, and  YouTube.