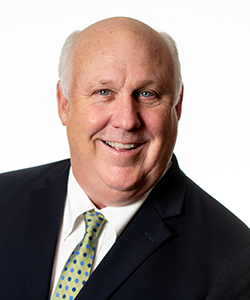 Los Angeles—Richard H. McNeel, AIA, NCARB, LEED AP, of Jackson, Mississippi, was elected as a regional director at the National Council of Architectural Registration Board's (NCARB) 2021 Annual Business Meeting. McNeel was nominated to serve on the NCARB Board of Directors by the organization's Region 3 (Southern Conference), which is comprised of Alabama, Arkansas, Florida, Georgia, Louisiana, Mississippi, North Carolina, Puerto Rico, South Carolina, Tennessee, Texas, and the U.S. Virgin Islands.
McNeel is a member of the Mississippi State Board of Architecture, which he was first appointed to in 2004 by then-Governor Haley Barbour. During his tenure, he has served multiple terms as the board's chair and vice chair. In 2013, McNeel was elected by his peers to serve as the secretary of Region 3, going on to serve terms as the region's treasurer, vice chair, and chair, before being elected as the regional director. 
Shortly after joining the Mississippi Board, McNeel began offering his time and expertise to several of NCARB's volunteer initiatives, which help shape the organization's programs and services. He joined the Architect Registration Examination® (ARE®) Subcommittee in 2006, helping to create test items for the national licensing exam. Since then, McNeel has been a valuable member of the Examination, Policy Advisory, and Regional Leadership committees, as well as the Program Continuum Advisory Collaborative. He has chaired the organization's Policy Advisory Committee, Interior Architecture Work Group, and ARE 4.0 Forms Assembly Task Force. In addition, McNeel has served on the Interior Architecture, Interiors, and Test Specification task forces, and on the Architectural Experience Program ® (AXP®) Portfolio Sunset Review Team. He has also served on multiple National Architectural Accrediting Board (NAAB) review teams, which evaluate the curriculum of college architecture programs.
In addition to his service to NCARB, McNeel has been actively working in the profession for over 40 years, serving as a juror, adjunct professor, and chair of the Mississippi State University's (MUS) Advisory Council for its College of Architecture, Art, and Design. He was a member of the American Institute of Architects (AIA) Mississippi chapter's board for 10 years, serving as its youngest president in 1990 and as the president of its Architectural Foundation in 1991. In 2020, he was recognized by the Mississippi Senate for his architectural service as one of MSU's distinguished alumni.
McNeel is the president of JBHM Architecture, a 50-year-old, full-service design firm serving Mississippi and the surrounding states. He is licensed in 13 states—including Mississippi—and received his NCARB Certificate in 1984. He was one of the first emerging architecture professionals to complete the Intern Development Program (IDP) in 1982, and was presented the NCARB President's Medal for Distinguished Service in 2019 by then-President David L. Hoffman, FAIA, NCARB, Hon. FCARM.
---
About NCARB
The National Council of Architectural Registration Boards' membership is made up of the architectural licensing boards of the 50 states, the District of Columbia, Guam, the Northern Mariana Islands, Puerto Rico, and the U.S. Virgin Islands. NCARB, in collaboration with these boards, facilitates the licensure and credentialing of architects to protect the health, safety, and welfare of the public.
To achieve these goals, NCARB works with its Member Boards and volunteers to develop and facilitate standards for licensure, including the national examination and experience program. NCARB also recommends regulatory guidelines for licensing boards and helps architects expand their professional reach through the NCARB Certificate. Connect with NCARB on  Twitter,  Facebook, and  YouTube.