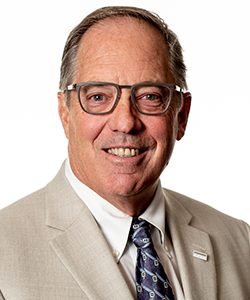 Los Angeles—Bayliss Ward, NCARB, AIA, of Bozeman, Montana, was elected first vice president/president-elect of the National Council of Architectural Registration Boards (NCARB) at the organization's 2021 Annual Business Meeting. By virtue of his election, Ward will become president of the organization, which facilitates licensure and credentialing for architects in the United States, in June 2022.
Over the next two years, Ward plans to focus on advancing NCARB's mission and raising awareness of its important role in architectural regulation. In addition, Ward will continue the organization's ongoing efforts to improve equity, diversity, and inclusion in the profession.
Ward was appointed to the Montana Board of Architects and Landscape Architects in 2005, and served for over a decade as the president of the board. In 2012, he became the chair of NCARB's Region 5, which includes Montana and the surrounding states. He was later elected to be the regional director on the national NCARB Board of Directors in 2015. Since his election to the Board of Directors, he has also served as the secretary, treasurer, and second vice president.
Shortly after joining the Montana Board, Ward began offering his time and expertise to NCARB volunteer initiatives as a member of an Architect Registration Examination® (ARE®) subcommittee. Since then, Ward has gone on to contribute to the organization's Continuing Education, Credentials, Education, Integrated Path Evaluation, Policy Advisory, and Regional Leadership committees, as well as multiple groups related to the development of the ARE. In addition, he has served as chair of the Audit and Investment Advisory Search committees. Ward has also been a dedicated member of the Future Title, Governance, Licensure, Model Law, Practice Analysis, and Test Specification task forces.
As principal and founder of Bayliss Architects, P.C., Ward's project experience includes large-scale commercial/office projects; high-density residential, master planning, medical, and classroom facilities; and large custom residential homes in the western region of the United States. Bayliss Architects received Historic Preservation Awards for Excellence in 1997, 1998, and 2005, and Ward has had his work published in Architectural Record  and other publications.
Ward is registered in Montana, Idaho, Minnesota, Nebraska, North Dakota, Utah, and Wyoming. He is an NCARB Certificate holder, as well as a member of the American Institute of Architects (AIA). Ward earned his Bachelor of Architecture and Master of Architecture degrees from Montana State University in 1988 and 2008, respectively.
---
About NCARB
The National Council of Architectural Registration Boards' membership is made up of the architectural licensing boards of the 50 states, the District of Columbia, Guam, the Northern Mariana Islands, Puerto Rico, and the U.S. Virgin Islands. NCARB, in collaboration with these boards, facilitates the licensure and credentialing of architects to protect the health, safety, and welfare of the public.
To achieve these goals, NCARB works with its Member Boards and volunteers to develop and facilitate standards for licensure, including the national examination and experience program. NCARB also recommends regulatory guidelines for licensing boards and helps architects expand their professional reach through the NCARB Certificate. Connect with NCARB on  Twitter,  Facebook, and  YouTube.