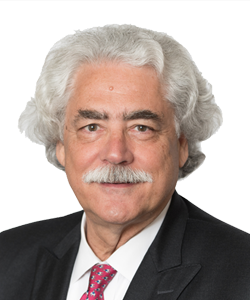 Austin, TX—George H. Miller, FAIA, of New York, New York, was elected as a regional director at the National Council of Architectural Registration Board's 2022 Annual Business Meeting. Miller was nominated to serve on the NCARB Board of Directors by Region 2 (Middle Atlantic), which is comprised of Delaware, the District of Columbia, Maryland, New Jersey, New York, Pennsylvania, Virginia, and West Virginia. 

Miller has been a member of the New York State Board for Architecture since 2011 and served as the board's chair from 2017-19. Prior to his election as NCARB Region 2 director, Miller was elected by his peers as the region's secretary in 2017 and as chair in 2021. 

A dedicated NCARB volunteer for 16 years, Miller first served as the co-chair of the IDP Coordinating Committee in 2006. Over the years, he has offered his time and expertise to the Diversity Collaborative, Futures Collaborative, and Regional Leadership Committee. Miller has also been a dedicated member of the Licensure and Ethics task forces. Miller most recently served as a member of the Policy Advisory Committee.  
With 47 years of professional experience, Miller now serves as a partner and chief operating officer at Meier Partners, where he is responsible for all of the firm's business activities and financial affairs. In addition to his service to NCARB, Miller served as president of the American Institute of Architects (AIA)'s New York chapter in 2003 and served as the AIA's national president in 2010. He has also served as a trustee of the New York Foundation for Architecture and was a director of the New York Building Congress. In 2011, Miller received the William Kideney Gold Medal, the highest award the AIA New York State can bestow on one of its members; the same year, he was also awarded NCARB's highest honor for architecture professionals, the President's Medal for Distinguished Service.  
Miller earned his Bachelor of Architecture degree from Pennsylvania State University in 1973 and has received the university's Distinguished Alumni Award. He holds the NCARB Certificate for national reciprocity and is licensed to practice in New York and New Jersey. 
---
About NCARB
The National Council of Architectural Registration Boards' membership is made up of the architectural licensing boards of the 50 states, the District of Columbia, Guam, the Northern Mariana Islands, Puerto Rico, and the U.S. Virgin Islands. NCARB, in collaboration with these boards, facilitates the licensure and credentialing of architects to protect the health, safety, and welfare of the public.
To achieve these goals, NCARB works with its Member Boards and volunteers to develop and facilitate standards for licensure, including the national examination and experience program. NCARB also recommends regulatory guidelines for licensing boards and helps architects expand their professional reach through the NCARB Certificate. Connect with NCARB on Twitter, Facebook, and YouTube.