In accepting the presidency of NCARB at our June 2021 Annual Business Meeting (ABM), I committed to leading a robust and intentional review of NCARB volunteer culture and programs focusing on impediments and opportunities to promote a more diverse, inclusive, and equitable organization. This commitment is personal to me as NCARB's first Latino president, and it also builds upon several years of activity from our Diversity Collaborative. This commitment is also driven by my many conversations with our licensing board community during my decade-plus of volunteering for NCARB.
The Current State
 I am thrilled to see more diversity in NCARB's regional leadership pipelines, which will assure a more diverse NCARB Board of Directors in coming years. A sustained look at data regarding our programs, ranging from Architect Registration Examination® (ARE®) pass rates to addressing licensure path attrition from underrepresented groups, is guiding our evolution of content and process, is strengthening NCARB's partnerships with related organizations, and is demonstrating thought leadership to the greater regulatory community.
NCARB has hired consultants who specialize in the areas of diversity, equity, and inclusion (DEI) and board governance. Our Board of has participated in awareness sessions with these consultants at each Board meeting this fiscal year. These sessions started with an examination of each of our own journeys and our own experiences with diverse, inclusive, and equitable employers, neighborhoods, schools, and other societal gatherings. It has progressed to an exploration of unconscious bias, with a special focus on recent reports regarding the bias experienced by women and people of color within the architecture community. We are now embarking upon further "tough conversation" sessions and the intersection between DEI and governance.
We are cognizant of the many conversations across the nonprofit community regarding how governance can act as a door or a barrier to fully diverse boards. We also acknowledge that diversity comes to us via gender, race/ethnicity, sexual orientation/identity, ableness, and age; it also comes to us via the perspectives of socio-economic status, geographic location, firm size, and so many other factors that can shape our viewpoint and unintentionally reinforce bias.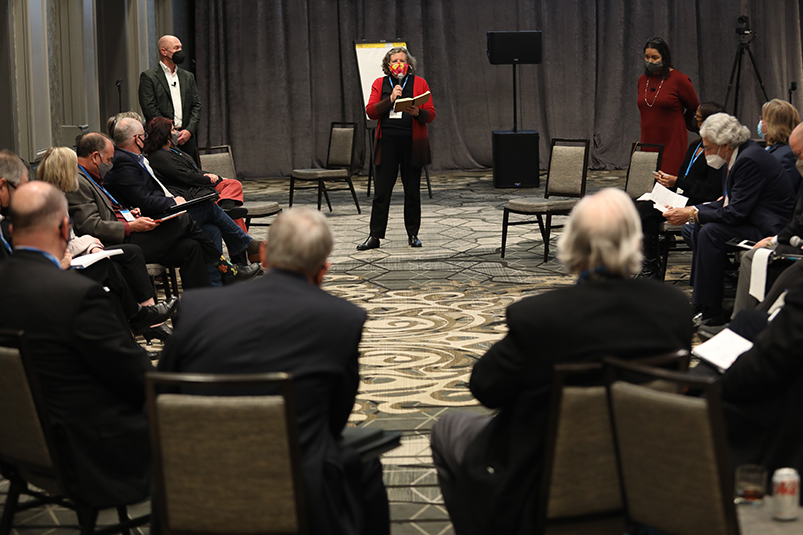 Our Diversity Collaborative is participating in this journey of discovery, as well. We have expanded our consultant support to assure our contracted subject matter experts in DEI and governance are facilitating parallel discussions with those occurring at the Board table. And, for the first time in memory, at NCARB's December Committee Summit the Board hosted a joint meeting with a volunteer committee; both Board and Collaborative members engaged in two-plus hours of sharing and meaningful collaboration with a commitment from me and First Vice President/President-elect Bayliss Ward to continue these joint meetings on a periodic basis into the next fiscal year.
In designing this journey with our consultants, I've indicated to the Diversity Collaborative—and ascertained from my Board colleagues—that our structured exploration will better position us to consider governance options in the coming fiscal year, ranging from revisiting a tabled proposal from last year's Collaborative, to new options, to discussing whether the governance structure is itself an impediment to a diverse Board. Everything needs to be on the table but reviewed in a manner that benefits from more information and more assessment through a better-informed lens of diversity, equity, and inclusion.
Current Year Actions
Member Board Focus Groups
When I became president, I committed to capturing feedback from NCARB's licensing board members during the first months of my presidency. I'm pleased to report that from August 3 to September 1, 2021, 10 one-hour DEI listening sessions with Member Board Members were conducted by our McKinley Advisors consulting team. The participants totaled 75, with 46 of our 55 jurisdictions represented. Twenty percent of those participants also responded to an online questionnaire provided after each session, inviting additional insights.
Key findings are as follows:
Motivation to participate

Need to hear and share experiences
Desire to understand bias and learn what NCARB is doing
Support for additional diverse voices (age, gender, race)
Passion to diversify the licensure and NCARB leadership pipelines for the future
Interest of board executives to support the DEI effort

Reaction to current state of NCARB as an organization

Positive feedback regarding committee appointments and corporate intentions
Negative feedback regarding Board of Director demographics
Concern that the leadership pathway is extensively long

Positive perceptions

Committee appointments are advancing DEI in the pipeline
The volunteer base has noticeably diversified in recent years
NCARB leadership and staff are helping to achieve jurisdictional goals

Negative perceptions

Board composition does not represent diversity of profession or society
Cultural features: "insider" culture that can be intimidating or unwelcoming; overly rigid and formal processes
Timeline—climbing a leadership ladder, stepping ahead not welcomed
Uncontested elections, belief that sequential service is needed due to "complexity"
Member Board service barriers such as minimum years of licensure and governors as gatekeepers
Leadership self-interest in resisting change

External factors impacting DEI progress

Pipeline impediments: lack of architecture awareness in under-represented groups; attrition from school and along licensure path including while taking the ARE; access to architecture schools; inequity in K-12 programs
Economic barriers: cost of education, lower return on investment regarding comparative salaries in other professions
Volunteer capacity: younger professionals, especially from under-represented groups, are preoccupied with other uses of volunteer time
State/jurisdictional issues: infrequency of available appointments, governor self-interest or disinterest, state board service as prerequisite for NCARB leadership

Regions: positive and negative perceptions

Positive: develops leaders, can promote diversity
Negative: expectation to serve in regional leadership extends the path to NCARB leadership; uneven size of regions leads to uneven representation within NCARB; the rationale for geographic-based representation may be outdated, unnecessarily costly to Member Boards
The focus group feedback concluded with asking for a desired "future state" of NCARB culture as it relates to DEI. The sentiments fell into five overarching themes:
Increase the diversity of demographics, geography, and subject matter expertise throughout NCARB
Support the cultivation of leadership at the jurisdictional level
Diversify the Board of Directors
Invite participation from underrepresented groups
Use ARE pass rates as a metric for success
Address barriers to entry in the profession
Ongoing Assessment/Next Steps
Our discussions last summer have helped frame subsequent sessions with our Board and our consultants, between our consultants and our Board and the Diversity Collaborative, and upcoming discussions with regional leadership and our consultants. We are all being guided into discussions regarding ingraining inclusion into organizational strategy and the way we govern, building boards that are diverse and inclusive, and regarding how being "equity-focused" translates to transparency, accountability, embracing change, identifying/interrupting process and governance bias, and commitment of resources.
Our sessions are digging deeper into implicit/unconscious bias, appreciating the diversity of our own personal narratives, and preparing us to revisit governance options from a perspective that is informed by additional data and training.
This discovery process has revealed that we have more work to do as a Board and as a community to be best prepared for discussion/debate regarding governance. Our consultants emphasize that results are a product of "who we are" multiplied by "what we do." If we do not focus on both the "who" and "what" elements, we will not arrive at an impactful result.
Accordingly, with the advice of our Board and working with our team of consultants and staff, I've developed a timeline for our DEI work in the second half of this fiscal year.
Our ongoing discussions will include how to best address pipeline, impediments, and culture through options ranging from keeping the status quo to revisiting titles and pathways. We sincerely hope to deliver a proposed approach that has benefitted from your input and a perspective enhanced by taking this extra time to debate and discern.
I have shared my personal thoughts with others that I believe this DEI journey is ongoing "forever work" that will enhance the future of this organization. Your input is essential in driving our mission to "Go Further!"