Washington, DC—As part of a series of reports regarding attrition from the licensure path by underrepresented groups, the National Council of Architectural Registration Boards (NCARB) and National Organization of Minority Architects (NOMA) released their report focused on examination. This in-depth report explores factors that impact equity, diversity, and inclusion for candidates taking the Architect Registration Examination® (ARE®).
Read the Summary  |  Read the Full Report 
The Baseline on Belonging: Examination Report is the second full report in the organizations' joint study on diversity and attrition along the path to licensure. The report reviews survey data regarding respondents' experiences preparing for and taking the examination, including impediments in the areas of financial support, coaching and mentoring, and overall cost. A subsection of the report, based on a multi-year collection of data by NCARB, indicates that people of color have significantly lower pass rates when taking the ARE compared to their white peers. Survey data from the full report highlights how factors like firm support and financial limitations may disproportionately impact candidates over 40 years old and people of color—especially women of color.
Previously, NCARB and NOMA released the Baseline on Belonging: Experience Report, which identified the effects that race, ethnicity, gender, age, and firm size can have on candidates documenting and reporting professional experience toward the Architectural Experience Program® (AXP®). By better understanding the key areas that impact underrepresented groups in the architecture profession, NCARB and NOMA aim to prompt widespread action throughout the profession to address these pinch points.
"The disparity in architecture exam pass rates is hard to see, but facing that number head on empowers us to ask better questions, and create new programs and policies that help ensure a successful career in architecture is both accessible and achievable to those historically marginalized by the process," said NOMA President and Gensler Senior Associate Jason Pugh, NOMA, AIA, AICP, LEED AP. "The path to licensure is long, non-linear, costly, and strenuous, but even more so without the appropriate milestones to benchmark successes for people of color—and most drastically for Black and Latina women. NOMA leadership hopes to work collectively with the architecture collaterals to address the hurdles and challenges outlined within these clear findings over the next few years, and move us toward greater equity and representation overall."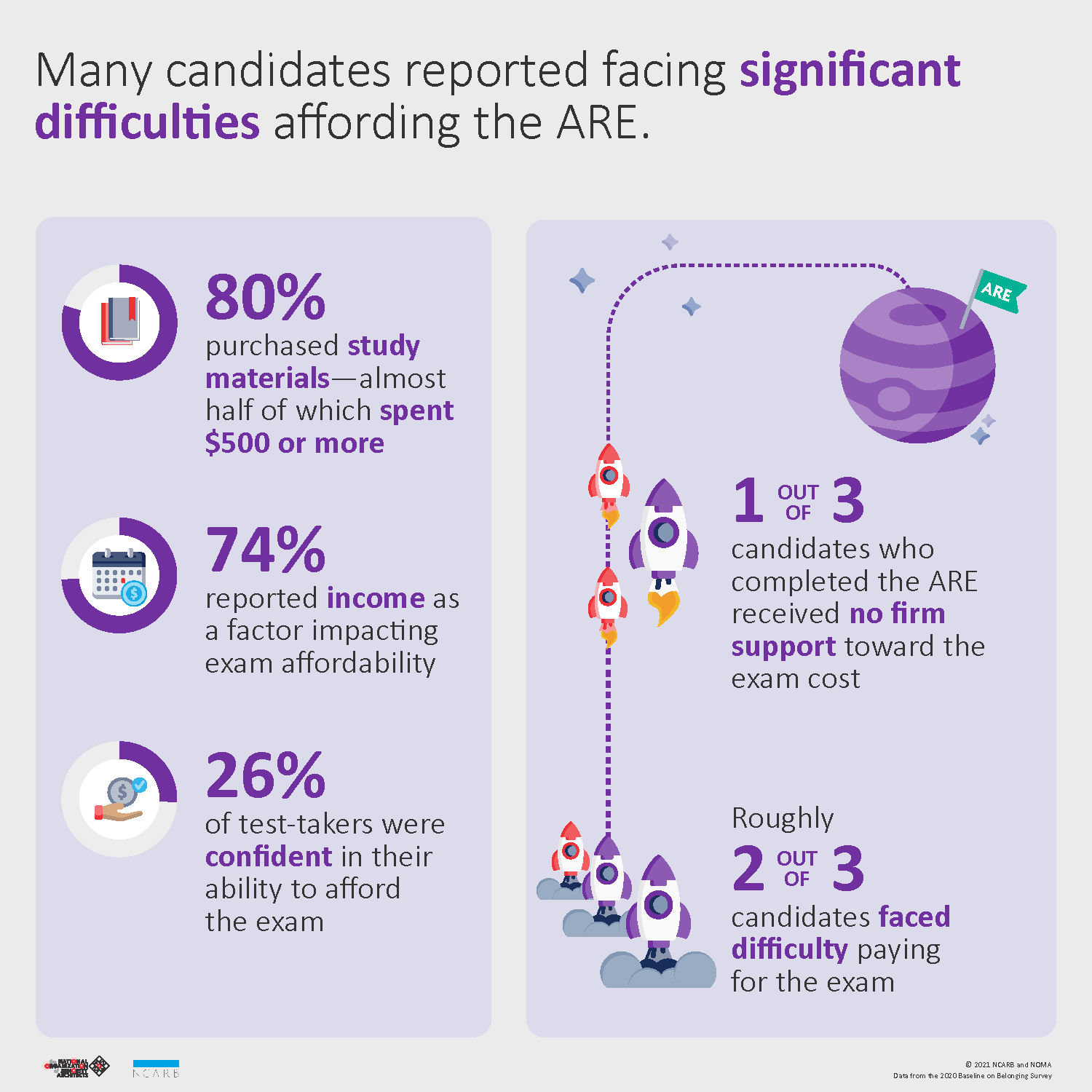 The ARE is a six-part exam required for architectural licensure by all 55 U.S. jurisdictions. To complete the exam, candidates must pass all six divisions within a five-year time period. Many candidates rely on firm support throughout the examination process, including access to firm-provided study materials and financial aid for the cost of the exam.
Because the ARE is the final step on the path to licensure for many candidates, exploring and addressing the underlying causes of the disparities highlighted in the Baseline on Belonging report may lead to greater diversity in the profession. In 2020, approximately 22 percent of architects in the United States identified as a racial or ethnic minority, according to data from NCARB's Record holders. While that is a significant increase compared to previous years, it is confined to the Asian and Hispanic or Latino communities. About 2 percent of architects identify as Black or African American—the same proportion seen a decade ago.
"We know that people of color are more likely to stop pursuing a license. The findings from this survey help us identify why," said NCARB President Alfred Vidaurri Jr., NCARB, NOMA, FAIA. "We look forward to working with NOMA and the entire architecture community to explore the core causes of impediments on the path to licensure and present solutions. Together, we can ensure that the future of our profession better reflects the communities we serve."
The Baseline on Belonging survey was released in early 2020 to over 70,000 individuals and received over 5,000 complete responses (including over 2,800 from people of color and nearly 2,500 from women). The examination report highlighted several key findings for additional study and exploration: 
The cost of the exam is a financial burden for many candidates, with only 26 percent of test takers indicating they felt confident they could afford the ARE.
African American and Latino candidates are less likely to report that their firm will contribute to the cost of the exam than their white peers (7 and 9 percentage points, respectively).
African American and Latino candidates are more likely to report that college or personal debt and family obligations impact their ability to afford the ARE. For example, African Americans were 14 percentage points more likely to report personal debt as a factor impacting their ability to afford the ARE than white candidates.
NCARB's Record holder data shows that candidates of color—especially Black or African American candidates—face significantly lower pass rates, which corresponds with survey data showing that candidates of color are less likely to complete the ARE. For example, white candidates' pass rates are 27-38 percentage points higher than their Black or African American peers.
African American and Latina women are more likely to experience barriers related to ARE support and affordability. For example, Latinas are 11 percentage points more likely than white women to report spending over $500 on study materials, and 20 percentage points more likely to report difficulty paying for the exam.
Age is a significant factor when it comes to the amount of support ARE candidates receive. Individuals over 40 years old are 24 percentage points less likely to receive firm support toward the cost of the exam.
Firm size has a significant effect on the amount of support candidates receive, with large firms more likely to assist with the cost of the ARE and study materials—26 and 41 percentage points more, respectively, compared to small firms.
These findings are a first step in identifying and addressing pinch points during the examination component of the licensure path. To better understand the underlying cause of the disparities highlighted in the report, NCARB and NOMA will conduct focus groups and follow-up surveys. Because the exam represents a final, measurable confirmation of the education and experience candidates have gained, the disparities seen in ARE pass rates may signal additional disparities earlier on the path to licensure. Future Baseline on Belonging reports on education, firm culture, and career development may yield additional insights into the disparities found in the experience and examination reports. 
To learn more about next steps and how to participate in further study, subscribe to our mailing list. To learn more about the Baseline on Belonging study and download the full report, visit www.ncarb.org/belong.
---
About NCARB
The National Council of Architectural Registration Boards' membership is made up of the architectural licensing boards of the 50 states, the District of Columbia, Guam, the Northern Mariana Islands, Puerto Rico, and the U.S. Virgin Islands. NCARB, in collaboration with these boards, facilitates the licensure and credentialing of architects to protect the health, safety, and welfare of the public.
To achieve these goals, NCARB works with its Member Boards and volunteers to develop and facilitate standards for licensure, including the national examination and experience program. NCARB also recommends regulatory guidelines for licensing boards and helps architects expand their professional reach through the NCARB Certificate. Connect with NCARB on  Twitter,  Facebook, and  YouTube.
About NOMA
NOMA, which thrives only when voluntary members contribute their time and resources, strives to build a strong national organization, strong chapters and strong members for the purpose of minimizing the effect of racism in our profession. NOMA's mission, rooted in a rich legacy of activism, is to empower our local chapters and membership to foster justice and equity in communities of color through outreach, community advocacy, professional development and design excellence. Connect with NOMA on  Twitter,  Facebook, and  Vimeo.