Washington, DC—For the past decade, NCARB has helped shape national conversations about the architecture profession by providing exclusive data on the number of architects, the pathway to licensure, and demographics. This year marks the 10-year anniversary of the organization's annual data publication, NCARB by the Numbers, which has grown in scope to include sections on attrition and representation along career stages.
The 2021 edition includes a new section on Architect Registration Examination® (ARE®) pass rates by several demographic categories. The six-division ARE, which is developed and administered by NCARB, is a key step on the path to earning an architecture license and is required by all state licensing boards.
Key Findings
Thanks to enhanced data science capabilities, NCARB is now able to segment and analyze pass rates from more than 32,700 test takers by demographic information, including race and ethnicity, gender, and age. Key findings—which will also be included in a joint report with the National Organization of Minority Architects (NOMA)—include: 
White candidates are much more likely to pass the ARE than candidates of color. The Programming & Analysis division, which focuses on evaluating a project's requirements and constraints, has the largest disparity: white candidates' pass rate is 38 percentage points higher than their Black or African American peers.
Men are more likely to pass than women. In general, men outperform women on five of the six divisions. A similar trend can be seen when factoring race and ethnicity, although Black or African American women generally outperform Black or African American men.
Younger candidates have higher pass rates. Across all six divisions, candidates between the ages of 18-29 have the highest pass rates, while candidates who are 40 or older have the lowest.
"These findings, while not surprising to architects of color, are unacceptable," said newly inaugurated NCARB President Alfred Vidaurri Jr., FAIA, NCARB, AICP. "I challenge us to do better. During my year as president, analyzing, understanding, and addressing these disparities will be a key focus—and I invite the entire profession to join us." 
Rethinking the Path to Licensure
Earning an architecture license generally takes over 12 years, which includes earning a college degree, reporting professional experience, and passing the ARE. In recent years, both architects and policymakers have questioned this framework, and NCARB has turned the microscope inward, resulting in a reduction of required experience hours, a restructuring of the ARE, and many other policy changes. Last year, CEO Michael Armstrong challenged the profession to consider accrediting four-year architecture degrees, which would help shave time and cost from the licensure path.
Following a preliminary internal data audit, NCARB commissioned an independent "bias study" of the exam, which showed individual questions do not drive disparities in candidate performance. Findings also emphasized that while the ARE is developed and evaluated in a way that minimizes unconscious biases—including assembling diverse volunteer groups to write and review exam content—NCARB cannot singlehandedly resolve inequity in exam access and performance. Coupled with NCARB's data on career attrition, these studies suggest that pass rate disparities could also be impacted by access to education and professional experiences.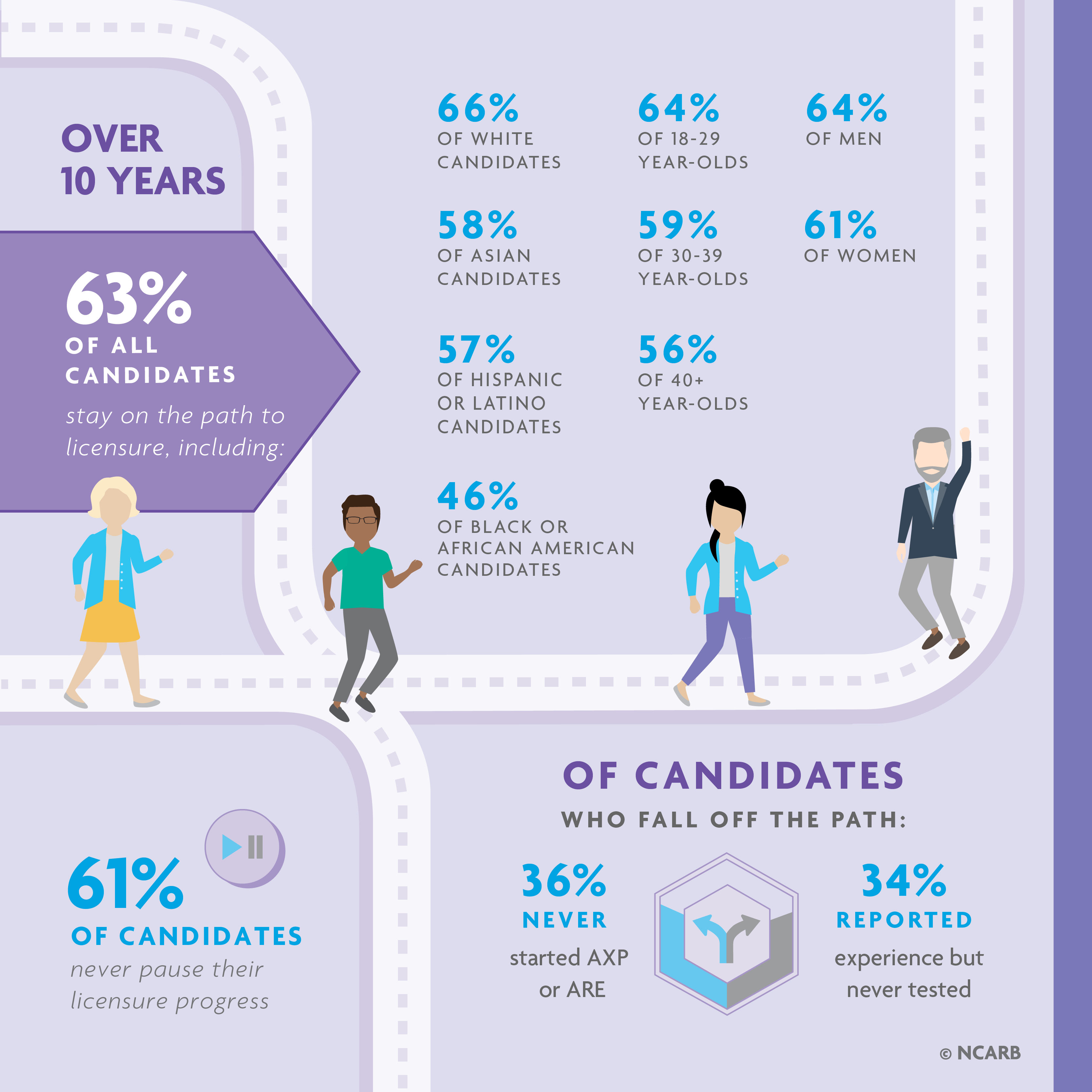 "One of the ways NCARB fulfils our mission to protect the public is by providing licensing boards with scientifically valid tools to measure competency, such as the ARE," said Vice President of Examination Jared Zurn, AIA, NCARB, CAE. "While there is always more NCARB can do to ensure our programs are fair and accessible, we cannot do it alone. We are calling on firms, academia, test takers, and the entire architecture profession to help us resolve disparities and continue this serious, but necessary conversation about the path to licensure."
Resolving Exam Performance Disparities
NCARB's data science and Examination teams have been actively working to understand the causes of testing disparities, assess internal design and development processes, consider next steps, and present solutions. To support all candidates, inform ongoing conversations regarding bias in the greater architecture community, and help address barriers to access, NCARB has pledged to launch the following changes, resources, and opportunities for feedback:
Licensure candidate representation. For the first time in NCARB history, ARE candidates have been appointed to the 2021 Examination Committee, which is responsible for recommending exam format and policy changes to NCARB's national Board of Directors.
New ARE practice exams: According to NCARB and NOMA's joint Baseline on Belonging study, nearly half of respondents spend more than $500 on test prep materials. NCARB is developing free practice tests for all six divisions, with a goal of launching the new suite of resources in mid-2022.
Independent bias audits. NCARB is currently conducting another external audit on the ARE, this time focused on the content areas within each of the six divisions to identify potential trends related to disparate pass rates. NCARB is committed to sharing ongoing findings with all stakeholders.
Collect community feedback. In addition to NCARB's annual Think Tanks for emerging professionals and the upcoming Analysis of Practice study, NCARB will launch two new outreach initiatives in 2021-2022: licensure candidate focus groups conducted by an external consultant and an Architecture Licensing Feedback survey, where the community can share their experience and recommendations.
Fairness in Licensure team. In 2019, NCARB launched an internal work group and commissioned external consultants to study licensure programs through an EDI lens. This effort first looked into ARE pass rates by demographics, and is currently exploring potential links between exam performance and the criteria driving candidates' Architectural Experience Program® (AXP®) reports, as well as firm culture.
Additional details on these new initiatives will be released in the coming months. To learn more about NCARB and the licensing exam, visit www.ncarb.org.
---
About NCARB
The National Council of Architectural Registration Boards' membership is made up of the architectural licensing boards of the 50 states, the District of Columbia, Guam, the Northern Mariana Islands, Puerto Rico, and the U.S. Virgin Islands. NCARB, in collaboration with these boards, facilitates the licensure and credentialing of architects to protect the health, safety, and welfare of the public.
To achieve these goals, NCARB works with its Member Boards and volunteers to develop and facilitate standards for licensure, including the national examination and experience program. NCARB also recommends regulatory guidelines for licensing boards and helps architects expand their professional reach through the NCARB Certificate. Connect with NCARB on  Twitter,  Facebook, and  YouTube.