2017 Licensing Advisors Summit: Breaking Down Barriers in Architecture
From July 27-29, over 250 architect licensing advisors—including students, licensure candidates, educators, practitioners, and members of state licensing boards—gathered in Chicago for the 2017 Licensing Advisors Summit. Throughout the three-day event, attendees shared best practices, explored important licensure topics, and learned about the latest program changes.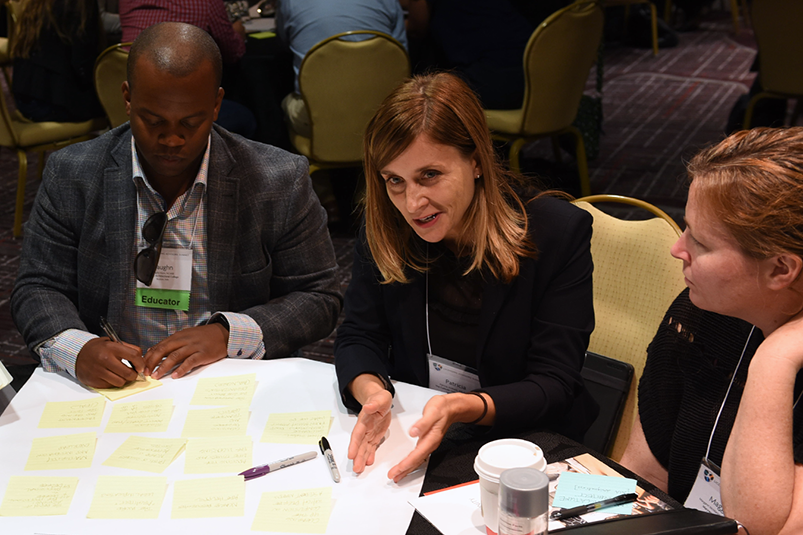 Supporting the Next Generation of Architects
Similar to supervisors and mentors, licensing advisors share first-hand knowledge and insight with candidates as they progress along the path to becoming an architect. Most NAAB-accredited architecture programs and AIA state chapters have a licensing advisor. Learn more about licensing advisors.
Summit attendees engaged with NCARB experts in various formats to learn more about recent updates to our key programs, from education to certification. These learning opportunities included a panel discussion about the advancement and impact of NCARB's Integrated Path to Architectural Licensure (IPAL) initiative, as well as a session on coaching individuals through the new alternative paths to licensure and certification. Advisors also got a sneak peek at pass rates for the newest version of the Architect Registration Examination® (ARE®), ARE 5.0, which are now available.

Encouraging Equity and Diversity in the Profession
Equity by Design founder Rosa Sheng, AIA, LEED AP BD+C, delivered a keynote address encouraging advisors to explore new ways to make the profession more equitable by breaking down barriers in the licensure process. "The largest percentage of people leaving the profession are recent graduates. We need to help them stay in the profession," said Sheng.
President of the Illinois chapter of the National Organization of Minority Architects (NOMA) Oswaldo Ortega, AIA, LEED AP, addressed the topic of diversity in architecture, discussing the importance of exposing children from all backgrounds to design-thinking at a young age.
Improving the Supervisor-Candidate Relationship
Attendees also heard from FY18 NCARB President Gregory L. Erny, FAIA, NCARB, about how the organization is working to build better relationships between licensure candidates and their supervisors. "Supervisors play a vital role in helping future architects gain the professional experience they need—yet we continue to hear that supervisors need to be trained to provide better coaching," said Erny. To address this issue, "NCARB is investing in new resources to train supervisors." Erny also announced that NCARB will be creating a new think tank for recently licensed architects in the coming year. In addition, the organization will launch NCARB Scholars, a new initiative designed to engage professional practice professors with the licensure process.
The supervisor-candidate relationship was also a key topic for members of the 2016 Think Tank, who participated in a panel at the summit. To bridge the gap, supervisors and candidates should "plan regular experience report submissions, schedule one-on-one development meetings, and celebrate licensure milestones," suggested Think Tank member Morgan Parrish.
Licensing advisors also participated in a best practices session, splitting into three groups: students, educators, and practitioners. These specialized breakouts encouraged attendees to share and develop key ways to address issues faced by licensure candidates and architects at specific times in their careers.
Interested in becoming a licensing advisor? Contact advisors@ncarb.org. You can see photos from the Licensing Advisors Summit on our Facebook page.