3 Tips for Passing the Building Section Vignette
The opinions expressed in this commentary are solely those of the author and do not necessarily reflect those of the National Council of Architectural Registration Boards (NCARB).
The Building Section Vignette is the one and only vignette in the Construction Documents & Services (CDS) exam. Just as in Site Zoning, but unlike most of the other vignettes, there is only one correct solution for the Building Section Vignette.
And there are definitely pros and cons to having only one possible solution. One advantage for candidates is that there's no subjective part of this vignette. Everything you need to draw is already given to you. All you're doing is interpreting the information and drawing the building where the section line tells you. The drawback is that there's no freedom to create a unique solution, which may be perceived as allowing less margin for error. In the design-oriented vignettes there is flexibility in problem solving. In this vignette, you have to produce the correct solution.
With these thoughts in mind, let's take a quick look at three tips that will help you pass the Building Section Vignette.
1. Keep Your Design Efficient
Even though there is only one correct solution, there can still be some variations when it comes to the overall building height, which you must determine. There are a number of factors that go into determining the overall height of your building such as: ceiling heights, light size, joist/duct combinations (see tip 2), floor and roof structure, and parapet.
Some of these factors are given to you directly in the program so you don't have to worry about figuring out the thickness. Just make sure you size them based on the program and don't over-design any of these elements. A common mistake is providing a higher parapet than is given in the program.
For items such as the joist/duct combination, you will need to determine the most efficient size for this space. This basically means that you don't want to overdesign your plenum space by providing more space than is required. This would be an inefficient design, and you will be downgraded for providing too much space.
Key takeaway: Just remember, you'll want your design to be as efficient as possible while still meeting all of the requirements given to you in the program. In theory, that's simple but easy to forget come exam day.
2. Design to the Largest Joist/Duct Combination
This is the most critical issue that candidates struggle with, and that's because it's the one area where the efficiency of your solution comes into play.
As you're trying to determine all of your critical heights in your building section, you need to provide enough space in the plenum (the space above the ceiling but below the floor or roof deck).
To make sure you've provided enough room, you need to determine the largest combination of ducts and joists at one spot on a given floor. To do this, you need to look through the entire first floor plan and find the largest combination. For example, in the NCARB Practice Vignette the Corridor has 24" deep ducts with 24" joists above, equaling a joist/duct combination of 48".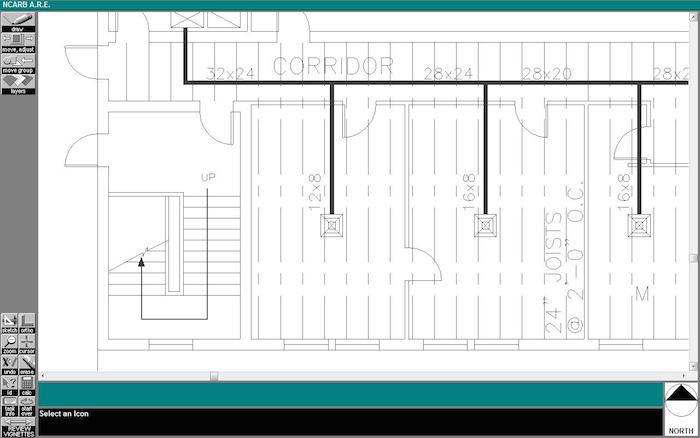 This means that you must design your solution to have 48" above the depth of the lights but below the bottom of the slab at the second floor. Be careful though—when you draw the ducts and the structure in your section, you must still draw the correct size of the members at that section cut. A common mistake is to design the joist/duct combination based on whatever is happening at that cut line. But this can be a big problem if there are larger combinations elsewhere on the floor.
Key takeaway: Don't forget to check your joist/duct combination at each floor level because they will need to be sized differently depending on what floor you're on.
3. Determine All of the Critical Heights First
With a full hour to complete this vignette, finishing on time should not be a concern. The key is to take your time and make sure you figure out as much as you can before you start drawing.
A common approach is to go through the program and the background floor plan and determine all of the critical heights before you start drawing your solution. This way, all of your planning is complete and you can focus on drawing everything properly. It could really set you back if you got too far into drawing your solution before realizing there was a problem with your section heights. As previously mentioned in tip 1, the critical elements that determine your heights are: ceiling height, light depth, joist/duct combination, floor slab/roof slab thickness, and parapet height.
Key takeaway: By figuring everything out first, you can save time by avoiding redrawing any elements.
In summary, while the Building Section Vignette is pretty straightforward, you can't overlook the importance of understanding these critical concepts. Fortunately, time should not be an issue. However, it's still strongly recommended that you practice with the vignette software prior to taking the exam.