The opinions expressed in this commentary are solely those of the author and do not necessarily reflect those of the National Council of Architectural Registration Boards (NCARB).
How I Came to Know NCARB
The first time I heard of NCARB was during a professional practice class in graduate school at the University of Minnesota—we were being introduced to the architectural design industry system. Honestly, I was totally confused about the difference between the NAAB, AIA, and NCARB. But the class had a clear message: go to NCARB if you want to be a licensed architect. After I graduated in 2015, I came to Washington, DC, to work at Wiencek + Associates | Architects + Planners. Around that time, I sent my first email to NCARB requesting some guidelines regarding licensure.
Diving Into a Pool of Resources
As soon as I subscribed to NCARB's newsletters, I came across updates, tools, and other essential resources that would assist with my licensure process. I gained access to great study tips from the ARE 5.0 Community, where NCARB staff answers all questions regarding the exam. As I'd discover these resources, I'd share them with all of my friends who were also pursuing licensure. Eventually, I helped start an ARE lunch study group in DC, and many licensure candidates joined to share study tips, discuss professional technologies, and recommend study materials. As a founder of this study group, now named the AIA|DC Asian American Designers Union, I've invited NCARB and NAAB staff to join us, in an effort to clear up candidates' concerns and help spread our resources on social media.
Studying and Volunteering: A Great Combination
I began the ARE in the summer of 2016 and completed it two years later. This was not an easy task, especially for a young candidate, like myself, who did not have a lot of work experience. I learned a lot from studying for the ARE, gaining professional knowledge and industry contracts, as well as understanding an architect's duty. The path to licensure has given me the confidence I need and helped me understand the role teamwork has in this profession.
While I was taking the ARE, I kept working as a volunteer in our small study group. The group eventually expanded to more than 50 members and we built a close connection with the AIA, NCARB, and NAAB. Some events—on topics including Education Evaluation Services for Architects (EESA), ARE 5.0, and the Zoning Regulation Study—benefited our group members a lot. In the summer of 2018, I decided to join NCARB's Licensing Advisors Community, which gave me even more chances to help candidates in the DC Metro area.
Joining the 2019 Re-Think Tank
In the fall of 2018, I received an email from NCARB encouraging me to apply for the 2019 Re-Think Tank. For me, this was another great opportunity to serve my community, so I uploaded my application as soon as I could. I attended two meetings, the first one in Atlanta and the second here in DC. We had discussions with other NCARB volunteer committees—including the Examination, Education, Policy Advisory, and Experience committees, plus the Model Law Task Force. This was an important lesson on understanding the whole structure of NCARB and how the organization works. As an added bonus, I made friends with members of diverse backgrounds from all over the country. We discussed many inspiring and critical topics, such as the competency of architect, an individuals' licensure path, and how to turn challenges into opportunities.
The Value of Volunteer Experience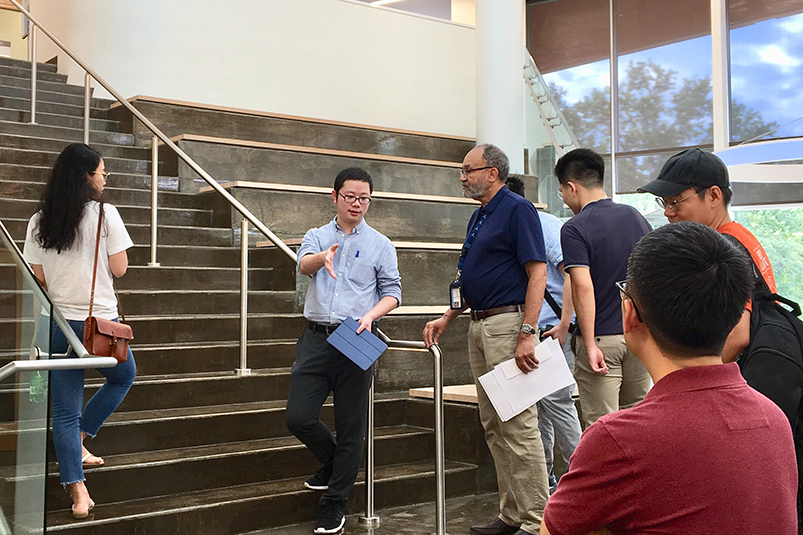 Simply put, my NCARB volunteer story stems from the ARE, but I gained so much more than just completing the ARE and obtaining an NCARB Certificate. During the studying process, I found the value of teamwork and volunteering. Today, I am enjoying all the benefits from being a volunteer with NCARB—connecting with local and national architects, gaining access to licensure tips and study materials, and even organizing events. This adventure has made me learn more than I thought I would, and because of that, I would like to encourage more young professionals to join.
Li Ren, AIA, NCARB, LEED AP BD+C, is a recently licensed architect at the DC-based firm Wiencek + Associates | Architects + Planners. Li is a member of the 2019 Re-Think Tank and the Licensing Advisors Community, as well as chair of the AIA|DC Asian American Designers Union.

Interested in volunteering for an NCARB committee? Contact your state's licensing board to learn how you can get involved. To become a licensing advisor, contact  advisors@ncarb.org.