NCARB is in the process of preparing an online proctored option for the ARE, which will launch December 14, 2020. As more information becomes available, you can find the latest updates on online proctoring here, including links to policy information, updated resources, and more.
Timeline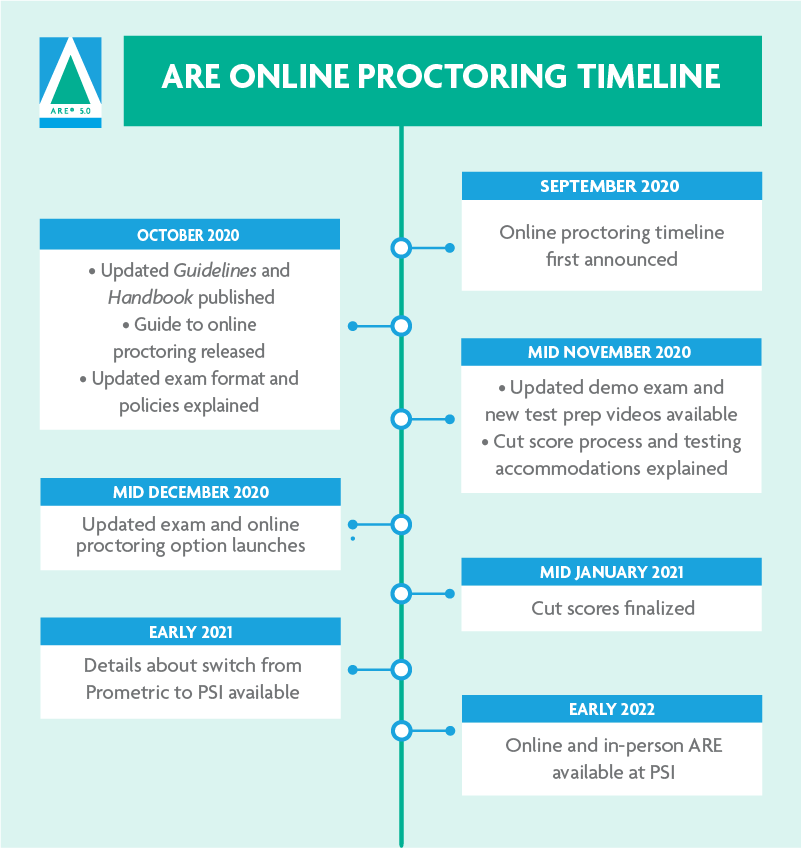 Highlights
You can find more information about online proctoring and ARE 5.0 in our guide. Some key items to be aware of are outlined below: 
Updated Demo Exam and Digital Whiteboard
You can now practice taking the updated exam, including using the new digital whiteboard tool, through the updated demo exam in your My NCARB account. Through the whiteboard, you can add text, create shapes, and sketch. Watch our video walk-through to learn how to navigate the digital whiteboard tool. We recommend becoming familiar with the functionality of the new whiteboard tool before taking the updated exam.
The updated demo exam features 75 practice items, a three-hour testing duration, and all the updated navigation features and tools you'll see when testing from December 14 onward.
Be sure to test the new break feature in the demo exam. When you indicate you're ready to take a break, you'll be directed to the Exam Summary screen, where you'll have the chance to review and return to any seen items before beginning your break. Once you return from your break, any seen items—whether answered or incomplete—will be locked, and you won't be able to revisit them.
The full-length demo exam isn't scored, but you can find answers to many of the sample items in the ARE 5.0 Handbook. Check out the ARE 5.0 Online Community to discuss all of the sample items.
Testing Requirements
Online (or remote) proctoring enables candidates to take the ARE in a private location of their choice that meets the necessary requirements for delivery, during a scheduled appointment time. Exam appointments will be closely monitored by a live "online proctor," who will ensure compliance with testing conditions.
To take the ARE online, you will need:
$50 Rebate on First Scheduled Online Proctored Appointment 
NCARB understands that requiring an external webcam may create an additional expense for candidates. To help offset this, NCARB will provide all candidates who schedule their first online appointment a $50 prepaid card. Every ARE candidate is eligible to receive one rebate. This prepaid card will be issued automatically after a candidate schedules their first online proctored appointment. Candidates who do not schedule an online proctored appointment will not be eligible. 
Resources
Latest Updates
Find more information and updates regarding online proctoring: