Lorenzo D. Williams, FAIA
NCARB President 1978-1979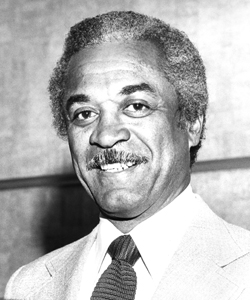 Lorenzo D. "Pete" Williams served as the NCARB president from July 1978 to June 1979, and was the first African-American to hold the position. In addition to his time as NCARB president, Williams was a highly-regarded architect in the city of Minneapolis.
Born in Louisville, KY, in 1923, Williams received his Bachelor of Architecture from Howard University in 1950. After graduation, Williams met James O'Brien while working at Benjamin A. Gingold & Associates. He then went on to partner with O'Brien in the founding of William/O'Brien Associates, where he worked until his retirement in 1999.
Williams' devotion to the health, safety, and welfare of the public was exemplified by his time as president of NCARB. His 1979 tenure oversaw a theme of "Reassessment," by which he assisted in the formation of a task force to critically reconsider and strengthen the soundness and effectiveness of NCARB policy.
As an architect and civic leader, Williams was highly respected for his work on multi-family housing and buildings for religious organizations. He was also an advocate for the disadvantaged in the 1960s. He served on the Minnesota Social Welfare Task Force, the Government Commission for the Employment of the Handicapped, and the Citizens League Low-Income Housing Committee.