Charles A. Blondheim Jr., FAIA
NCARB President 1977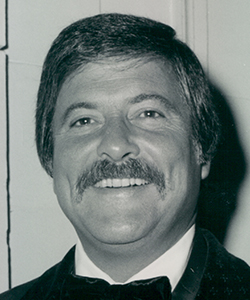 Charles A. Blondheim Jr., FAIA, of Eufaula, Alabama, was appointed to the Alabama Architects Board in 1964. He began volunteering for NCARB committees in 1969 and was elected to the NCARB Board of Directors in 1972, serving terms as director, treasurer, and first vice president before being inaugurated as NCARB president at the 1976 Annual Business Meeting. During his tenure, Blondheim was largely responsible for setting the stage for launching the Intern Development Program (IDP). He also shaped the substance of NCARB's "nation to nation" concept surrounding international reciprocity.
Blondheim established his architectural practice, Blondheim & Mixon, after attending Auburn University for two years, and then transferring to Georgia Tech to study architecture. In 1957, the American Institute of Architects (AIA) awarded him with the Langley Graduate Scholarship, opening doors to attend the Massachusetts Institute of Technology where he earned a master's degree in architecture. His firm designed a number of projects throughout Alabama, including the Lakeside School in Eufaula. He was licensed in eight states and was elevated to the AIA College of Fellows in 1976.