Charles E. Garrison, FAIA
NCARB President 1991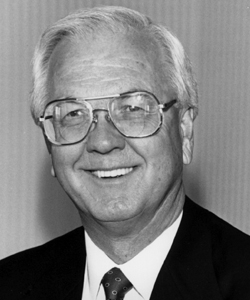 Charles "Chuck" E. Garrison was elected president of NCARB in 1991 after over a decade of service to the profession. Prior to joining NCARB's Board of Directors, he served on the Illinois Licensing Board and as chair of many NCARB committees, including the Professional Conduct Committee, Nomination Committee, Communications Committee, International Relations Committee, and as volunteer on the Procedures and Documents Committee. 
As president, Garrison greatly emphasized communication and cooperation both with collateral organizations and internationally. He oversaw a refresh of NCARB's visual brand and an update to its office to provide better space to process and transfer architect credentials. Garrison also worked to streamline the organization's budget and enhance NCARB's outreach to its members and the public. For his dedicated service to the profession, Garrison was elevated to the AIA College of Fellows and was recognized with the AIA Distinguished Achievement Award.