Daniel Boone, FAIA
NCARB President 1971-1972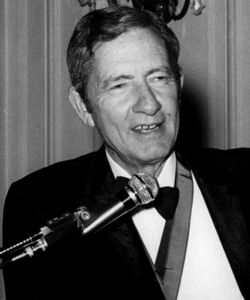 Daniel Boone served as president of NCARB from 1971-1972 after first being elected to the Board of Directors as treasurer in 1966. He served on the Texas state board from 1960 to 1967. He also served on various NCARB committees including multiple terms on the Committee on Regional Structure, the Committee on Documents, the Committee on Finance, the Interprofessional Committee, and the International Relations Committee.
Born in Waco, TX, in 1913, Boone graduated from the University of Texas at Austin with a degree in architecture. He joined the U.S. Army in 1943 and served in the Engineering Battalion in Europe in World War II.
Boone and William A. Pope established an architectural firm in 1956, later known as Boone Pope Wheeler. His firm was responsible for many prominent buildings throughout west Texas, including Taylor County Coliseum, Abilene City Hall, Abilene Civic Center, and several school buildings. He retired in 1988 after over 40 years in the profession.
Boone was also active in the Texas Society of Architects and represented Texas on the Board of Directors of the American Institute of Architects and was named a Fellow in 1968. He received the highest award given by the Texas Society of Architects, the Pitts Award, for a lifetime of distinguished leadership and dedication in architecture and community in 1968.