David L. Hoffman, FAIA
NCARB President 2018-2019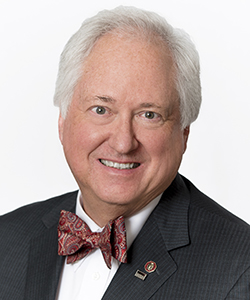 David L. Hoffman, FAIA, NCARB, Hon. FCARM, of Wichita, Kansas, was first appointed to the Kansas State Board of Technical Professions in 2005. He has served as the board's chair, as well as on several state committees. His service to NCARB began in 2006, when he joined the Site Planning and Design Subcommittee, which he later coordinated from 2010 to 2011. Prior to joining the NCARB Board of Directors, Hoffman served as the Central States Conference (Region 5) secretary/treasurer, vice chair, and chair. He has represented NCARB on several National Architectural Accrediting Board (NAAB) accreditation teams and served on NCARB's NAAB ARC Regulatory Conference Task Force. Hoffman served as NCARB's 2018-2019 president/chair of the Board.
Hoffman is senior vice president of LK Architecture based in Wichita, KS, a 100-plus person A/E firm, practicing throughout the United States and Mexico. Holding an NCARB Certificate, he is licensed in 28 states and Washington, DC. Other professional service includes representing the Central States Region on the American Institute of Architects (AIA) Board of Directors, serving on Editorial Review Committees for the 12th, 13th, and 14th editions of the Architect's Handbook of Professional Practice, chairing the Practice Management Professional Interest Area Committee, serving on numerous national committees and on the University of Kansas' School of Architecture, Design & Planning Advisory Board. AIA Kansas honored him with the Henry Shirmer Distinguished Service Award, where he also served as president and director. In 1993, Hoffman was elevated to AIA's College of Fellows and named a Richard Upjohn Fellow.