Fred L. Markham, FAIA
NCARB President 1954-56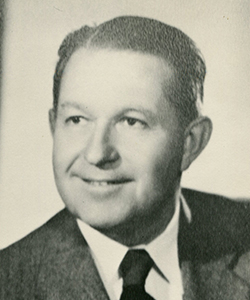 Fred L. Markham, of Provo, Utah, served two terms as NCARB president from 1954-1956 after serving on the Board of Directors as first, second, and third vice president. During his time at NCARB, Markham volunteered for the Syllabus Committee and emphasized the importance of clearly defining "competence" in the practice of architecture. He also supported NCARB's continued financial support of the National Architectural Accrediting Board (NAAB).
Markham received his undergraduate degree in math from Brigham Young University (BYU) before earning a degree in architecture from the Massachusetts Institute of Technology. In 1939, he became a sole practitioner and would go on to design many of BYU's campus buildings. Markham was elevated to the American Institute of Architects (AIA) College of Fellows in 1957.