Gordon E. Mills, FAIA
NCARB President 2008-2009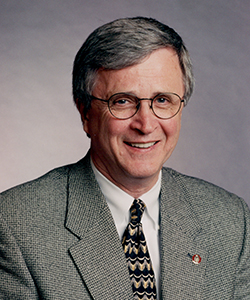 Gordon E. Mills, FAIA, Dubuque, IA, was a member of Iowa Architecture Examiners Board from 1996-2005, serving as chair in 2001-2002. His work with NCARB began in the late 1980s when he volunteered to grade the ARE. He has since served on NCARB committees related to the ARE, Professional Development Program, and international relations. Mills was elected to the Board of Directors in 2002 as the director for the Mid-Central Conference (Region 4) and has since served as treasurer, second vice president, and first vice president before becoming president in 2008.
Mills spent 39 years with The Durrant Group, Inc. before retiring in 2006 as the chairman and chief executive officer. In 2001, Mills was advanced to the American Institute of Architects' College of Fellows in recognition of his long standing professional contributions. He received AIA Iowa's Gold Medal in recognition of his distinguished service to the profession of architecture in 2002. In 2006, he was named a senior fellow in the Design Futures Council, a global network of design community professionals whose mission is to explore trends, changes, and new opportunities in design, architecture, engineering, and building technology. A graduate of Iowa State University, Mills holds the NCARB Certificate for national reciprocity and is licensed in Iowa.