Kenneth J. Naylor, FAIA
NCARB President 2010-2011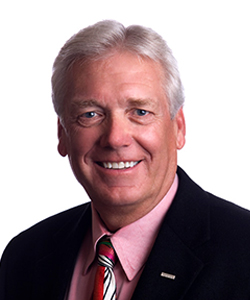 Kenneth J. Naylor, FAIA, LEED AP, Park City, UT, began his NCARB career as a member of the Utah Architects Licensing Board from June 1999 to June 2007, serving as chair from 2003-2007. He has served on several NCARB committees including the ARE Subcommittee, the Committee on Examination, the Committee on Education, and the Committee on Procedures and Documents as well as a number of task forces. Naylor was elected to the Board of Directors in 2006 as the regional director from the Western Conference (Region 6).
A graduate of the University of Utah (Bachelor of Science and Master's of Architecture), Naylor is the founder and president of Naylor Wentworth Lund Architects, PC, a 50-person architectural firm with offices in Salt Lake City and St. George, UT. The firm has completed projects in 16 states and seven foreign countries. Naylor has practiced architecture since 1981, and has also served in a number of positions for the local AIA chapter, including president of AIA Utah in 2009. He was elevated to the AIA College of Fellows in 2013.