Walter F. Martens, FAIA
NCARB President 1959-60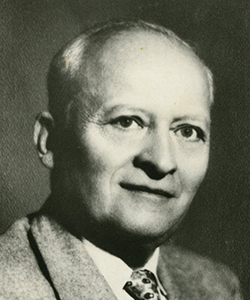 Walter F. Martens, of Charleston, West Virginia, served two terms as NCARB president from 1959-1960. As president, he oversaw the redesign of the Council's seal, improved communication to both Member Boards and the public, and continued collaboration with the American Institute of Architects (AIA). Before his presidency, Martens served as first, second, and third vice-president, as well as chair of the Resolutions Committee. He was also a member of the West Virginia State Board of Architects and served as president of AIA West Virginia.
Martens began his career as a draftsman in Illinois before moving to West Virginia to begin his own practice. In the 1920s, he won a competition to design the West Virginia Governor's Mansion. Martens was elevated to the AIA College of Fellows in 1953. At the 1956 NCARB Annual Business Meeting, Martens was presented with "Certificates of Award" for his distinguished service as a Member Board Member.