Paul W. Drake, FAIA
NCARB President 1964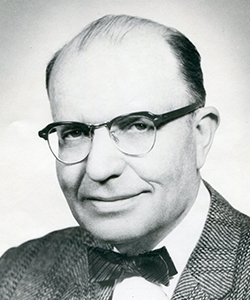 Paul W. Drake, of Summit, New Jersey, served as NCARB president in 1964 following terms as first and second vice-president, as well as director. He served on the New Jersey State Board of Architects for 12 years before volunteering for a handful of NCARB committees, including the Executive and Finance committees. During his time as president, Drake oversaw the Member Board vote to officially form six regions: New England, Middle-Atlantic, Southern, Mid-Central, Central, and Western.
In addition to his work with NCARB, Drake served as president of both the New Jersey Society of Architects and the New Jersey Chapter of the American Institute of Architects (AIA). He also served as president of the Alumni Association of the College of Architecture and on the Scholarship Committee of Cornell University, where he earned his Bachelor of Architecture. In recognition to his service to the profession, he was elevated to the AIA College of Fellows in 1962.